Graceful Living
Related Media
"Experience a life of freedom and joy!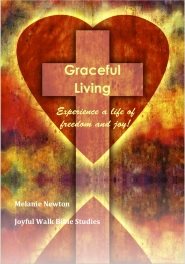 Whether you have been a Christian for a long time but never been truly discipled in the basics of the Christian faith or just need a concise refresher course, this study is for you. Discover who Christ is, what he has done for us on the cross, and our new identity and way of living in him. The heart of this course is the message of God's love and grace in Jesus Christ and the reality of "Christ alive and living in me."
Knowing and living this way leads to the kind of life Jesus means for you to have—a life of freedom and joy!
Start the adventure into graceful living today…
Related Topics: Basics for Christians, Christian Life, Christology, Curriculum, Discipleship, Soteriology (Salvation), Spiritual Life, Women