Advertising
Make the distance between you and the people you want to reach even shorter.
Advertise with Bible.org and reach over 3.3 million unique visitors including students, pastors, church leadership, Sunday school teachers, Bible study enthusiasts and more.
Bible.org uses your advertising dollars for the continued support of our ministry and to help us put God's Word into the hands of the world in their own language and in a format they best understand.
We offer three ad units: A leaderboard (728 X 90) at the top and bottom of each article and a banner (300x250) in the right sidebar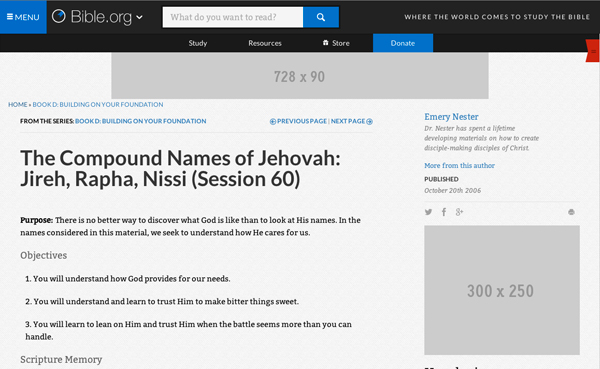 Our Current Advertiser rates:
Standard impressions
Our rate is $5 CPM. (Minimum impressions is 50,000)
Flexible campaign options to match your budget
We can accommodate a variety of campaign options to help you meet your goals. 
Contact us
Contact us today to start advertising with Bible.org or if you have any questions.