Devoted
Related Media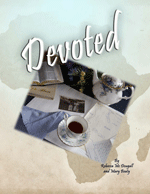 She Loved Me Devotedly...
Devoted gives you an intimate look into the hearts and lives of a mother and daughter called into missions on two separate continents. Raised on the mission field in Central America, Becca McDougall bravely goes to the unknown plains of Africa as a new bride. Faithfully she follows her husband and the calling of Jesus, trusting His promise that, "Everyone who has left houses or brothers or sisters or father or mother or wife or children or lands, for My name's sake, shall receive a hundredfold, and inherit eternal life." Matt 19:29. Discover selfless devotion through the letters written between a mother and daughter separated by many miles, yet held close by their steadfast faith in Christ and their love for each other.
To freely read the rest of this book Devoted
click here to view the PDF.
Related Topics: Christian Home, Christian Life, Missions, Mothers