The God-Dependent Woman: Life Choices From Second Corinthians
Related Media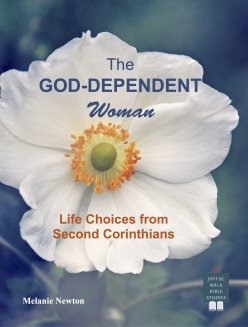 God wants you to learn to rely on Him more than on yourself. Being a God-dependent woman will make you stronger and more effective in life than you could ever be on your own.

The key to being a God-dependent woman is dependent living. Paul teaches you how to do that in Second Corinthians.

Through this 11-lesson study of 2nd Corinthians, you will learn how to make plans for your life and rely on God with how you proceed. You will learn how to educate your mind and rely on God to use that knowledge to glorify Him. You will learn how to make money and rely on God to show you how to use it wisely. You learn how to do this as you act in obedience to the Word of God, depend on Jesus Christ for the power to do so, and trust Him with the results.

Work through The God-Dependent Woman study and start living this way today!
Related Topics: Christian Life, Women, Women's Articles