Appendix for the Larger Semantic Units of Galatians
Chart I
Outline of the Hierarchy of Semantic Structure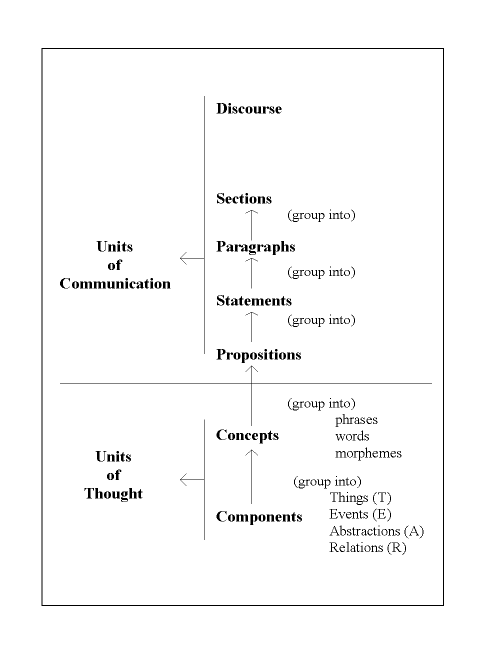 Chart II
Schematic Diagram of Relations Between Propositions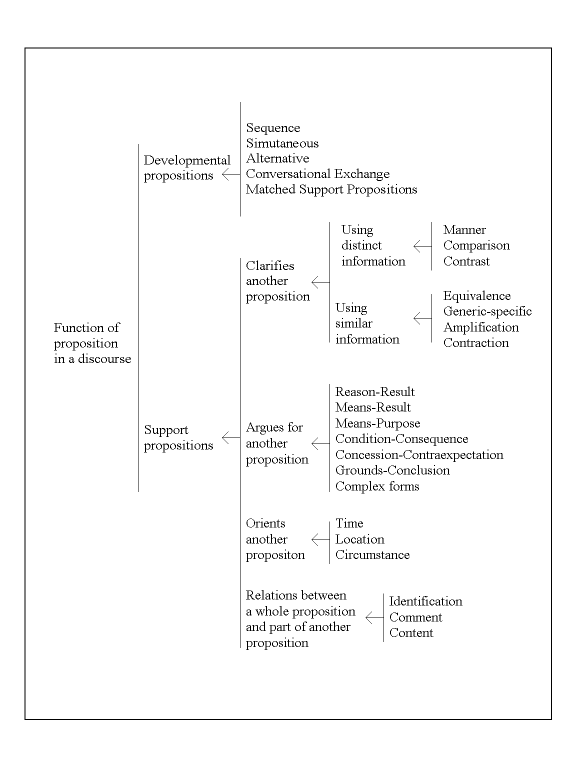 Addition Relations (Developmental)
SEQUENCE--one proposition follows another in the referential world.
SIMULTANEOUS--Partial or complete overlap in time.
ALTERNATIVE--either contrastive choices or a series of choices within the same domain.
CONVERSATIONAL EXCHANGES--two halves of a conversation.
MATCHED SUPPORT--two propositions have the same relationship to another proposition they support.
Associative Relations Support
MANNER--tells how an event took place.
COMPARISON--similes, metaphors, examples.
CONTRAST--negation of the same predicate, or synonyms; or by antonyms; or by difference of degree.
EQUIVALENCE--synonyms or negated antonyms.
GENERIC-SPECIFIC--the generic includes the specifics.
AMPLIFICATION-CONTRACTION/SUMMARY--more information, summary statement, tag question, or rhetorical question and its answer.
REASON-RESULT--tells why this result.
MEANS-RESULT--tells how did this result come about.
MEANS-PURPOSE--tells what action was undertaken to achieve the desired result.
CONDITION-CONSEQUENCE--"if-then" relationship.
CONCESSION-CONTRAEXPECTATION--tells why the actual result is unexpected.
GROUNDS-CONCLUSION--tells what facts this conclusion is based upon.
TIME--tells when as event took place.
LOCATION--tells where an event took place.
CIRCUMSTANCE--tells "what else" happened, gives background information.
IDENTIFICATION--singles out a Thing (surface form is usually a restrictive relative clause).
COMMENT--gives information about a Thing (surface form is usually a non-restrictive relative clause).
CONTENT--answers "what?" (For example, "I heard--that you were here.")
Chart III
Procedure for Discourse Analysis
1. Look for probable boundaries between units of paragraph and above.

a. Note the grammatical and lexical characteristics of the words, phrase, or clauses which are paragraph initial in the paragraph as marked in:

the U.B.S. Greek text

Selected versions

Selected commentaries.

b. Note and list grammatical features which occur frequently at the beginning of a posited paragraph. This includes items such as vocatives, imperatives, interjections, rhetorical questions, genitive absolutes, and so on. State why some are probably not indicating a paragraph and others are.

2. Look for unity-coherence spans (shared grammatical and lexical information).

Lexical

a. The concordance can help here and perhaps the computer Bible. Look for key content words which are repeated (even if not in the exact grammatical form), more specifically, that are repeated in a given span of text. List.

b. The above should also be done for phrases and clauses List.

c. Look for words that are related semantically. List.

d. Look for parallelisms.

1) contrastive

2) serial

3) reciprocal.

e. Look for the "sandwich."

Grammatical

a. Continuation in many, several, or most main clauses of:
| | |
| --- | --- |
| | object |
| | Person |
| | instrument and so on |
b. A "sandwich" parallelism.

c. The ends of a chiasmus.

d. Serial (non-sandwich) parallelism.

3. Look for the differences between unity-coherence spans
b. Other grammatical features similar to those under 1.

c. New finite verb if other factors are also present.

d. Conjunctions which are primarily used initially in unit.

e. The start of close of a grammatical "sandwich."

Others are lexical

a. Tail-head words '

b. Change in semantic domain.

c. Start of close of a lexical "sandwich."

d. Higher level parallelisms (which because of length and other factors indicate sections).

e. A return to a non-subordinated, higher level proposition.

4. Combine the evidence of 1, 2, and 3 to posit more positive paragraph and section divisions. List.

5. Look for devices which show the prominence within each paragraph and perhaps larger units at the same time.
| | |
| --- | --- |
| a. Finite verbs (non-subordinated) | g. Periphrastic repetitions |
| | |
| | |
| | |
| | |
| | |
Analyze propositionally, where necessary, in order to verify which are hi her ranked.

6. Distinguish between emphasis and focus where possible. Choose what is the main topic and what is the main comment in each paragraph. State evidence for our choice

7. State a tentative theme in the form of as simple a sentence as possible for each paragraph. Combine main topic and main comment. Give evidence showing this to be the focal part of the paragraph. (If in doubt, state only the topic of the paragraph.)

8. Posit relations between paragraphs. Discuss possible alternatives and the reasons for our choice.

9. Display the themes of each paragraph according to their dependency relationship with the dominant themes to the left and supporting themes arranged appropriately.

10. Group paragraphs into sections (if this has not already been done) and posit section themes. Revise where necessary to maintain logical sequence without forcing the data.

11. Display and indent subsection and section themes.

12. For difficult paragraphs and subsections, a full pro positional display will be necessary. In fact, to accomplish 5, 6, and 7, partial or complete propositional displays may be needed.

13. Distinguish, if not already done, between the larger components of the discourse, that is introduction, body, and conclusion.

14. Choose a theme for the whole book. Discuss and justify.

15. Write in draft form the discourse structure of the book.

16. Revise paragraph, subsection, section, and division displays. Also propositional displays where needed.
Support every decision from evidence found in the text
Chart IV
Some Factors Entering the Analysis of Pauline Epistles
Unity and coherence spans within semantic units

Boundary indicators separating semantic units

Devices to show prominence (emphasis, focus and theme)

Grammatical evidence

Same: mood, tense, subject, instrument, object.

A sandwich parallelism

Subordinators

Chiasmus (asyntactic device)

Conjunctions used medially in unit

Prepositions

Backward reference of relative clauses

Genitive constructions

Serial parallelism

Change in; mood, tense, subject, time, location

Rhetorical question

Vocatives

Start or close of grammatical sandwich

Conjunctions used initially in unit

Forward reference of relative clause

Nonsubordinated finite verbs

Relative clause in subject change

Finite verbs

Forefronting

Repetitions

Case Endings

Hendiadys

Nonsubordination

Proportion (length)

Chiasmus

Lexical Evidence

Repetition of key roots, words or phrases

Words in same semantic domain

Serial parallelism

Contrastive parallelism

Reciprocal parallelism

Parallelism of lists

Sandwich of lexical items/parallelism

Synonyms

Antonyms

Generic-specific terms

Tail-head pair of key words (hook-eye)

Change of semantic domain

Serial parallelism (sections)

Contrastive parallelism (sections)

Reciprocal parallelism (sections)

Parallelism of lists (sections)

Starting or closing a lexical sandwich

Free pronouns

Repetitions

Lists

Contrasts in degree

Hyperbole

Hypobole

Litotes

Sandwich focus
Chart V:
Comparison of Paragraph Divisions
| | | | | | | | | | | |
| --- | --- | --- | --- | --- | --- | --- | --- | --- | --- | --- |
| | | TLB | Phillips | RSV | TEV | NIV | Jerusalem | NASB | UBS | This Thesis |
| Chapter I | 1 | | | | | | | | | |
| | 2 | | | | | | | | | |
| | 3 | | | | | | | | | |
| | 4 | | | | | | | | | |
| | 5 | | | | | | | | | |
| | 6 | | | | | | | | | |
| | 7 | | | | | | | | | |
| | 8 | | | | | | | | | |
| | 9 | | | | | | | | | |
| | 10 | | | | | | | | | |
| | 11 | | | | | | | | | |
| | 12 | | | | | | | | | |
| | 13 | | | | | | | | | |
| | 14 | | | | | | | | | |
| | 15 | | | | | | | | | |
| | 16 | | | | | | | | | |
| | 17 | | | | | | | | | |
| | 18 | | | | | | | | | |
| | 19 | | | | | | | | | |
| | 20 | | | | | | | | | |
| | 21 | | | | | | | | | |
| | 22 | | | | | | | | | |
| | 23 | | | | | | | | | |
| | 24 | | | | | | | | | |
| Chapter II | 1 | | | | | | | | | |
| | 2 | | | | | | | | | |
| | 3 | | | | | | | | | |
| | 4 | | | | | | | | | |
| | 5 | | | | | | | | | |
| | 6 | | | | | | | | | |
| | 7 | | | | | | | | | |
| | 8 | | | | | | | | | |
| | 9 | | | | | | | | | |
| | 10 | | | | | | | | | |
| | 11 | | | | | | | | | |
| | 12 | | | | | | | | | |
| | 13 | | | | | | | | | |
| | 14 | | | | | | | | | |
| | 15 | | | | | | | | | |
| | 16 | | | | | | | | | |
| | 17 | | | | | | | | | |
| | 18 | | | | | | | | | |
| | 19 | | | | | | | | | |
| | 20 | | | | | | | | | |
| | 21 | | | | | | | | | |
| Chapter III | 1 | | | | | | | | | |
| | 2 | | | | | | | | | |
| | 3 | | | | | | | | | |
| | 4 | | | | | | | | | |
| | 5 | | | | | | | | | |
| | 6 | | | | | | | | | |
| | 7 | | | | | | | | | |
| | 8 | | | | | | | | | |
| | 9 | | | | | | | | | |
| | 10 | | | | | | | | | |
| | 11 | | | | | | | | | |
| | 12 | | | | | | | | | |
| | 13 | | | | | | | | | |
| | 14 | | | | | | | | | |
| | 15 | | | | | | | | | |
| | 16 | | | | | | | | | |
| | 17 | | | | | | | | | |
| | 18 | | | | | | | | | |
| | 19 | | | | | | | | | |
| | 20 | | | | | | | | | |
| | 21 | | | | | | | | | |
| | 22 | | | | | | | | | |
| | 23 | | | | | | | | | |
| | 24 | | | | | | | | | |
| | 25 | | | | | | | | | |
| | 26 | | | | | | | | | |
| | 27 | | | | | | | | | |
| | 28 | | | | | | | | | |
| | 29 | | | | | | | | | |
| | | | | | | | | | | |
| --- | --- | --- | --- | --- | --- | --- | --- | --- | --- | --- |
| | | TLB | Phillips | RSV | TEV | NIV | Jerusalem | NASB | UBS | This Thesis |
| Chapter IV | 1 | | | | | | | | | |
| | 2 | | | | | | | | | |
| | 3 | | | | | | | | | |
| | 4 | | | | | | | | | |
| | 5 | | | | | | | | | |
| | 6 | | | | | | | | | |
| | 7 | | | | | | | | | |
| | 8 | | | | | | | | | |
| | 9 | | | | | | | | | |
| | 10 | | | | | | | | | |
| | 11 | | | | | | | | | |
| | 12 | | | | | | | | | |
| | 13 | | | | | | | | | |
| | 14 | | | | | | | | | |
| | 15 | | | | | | | | | |
| | 16 | | | | | | | | | |
| | 17 | | | | | | | | | |
| | 18 | | | | | | | | | |
| | 19 | | | | | | | | | |
| | 20 | | | | | | | | | |
| | 21 | | | | | | | | | |
| | 22 | | | | | | | | | |
| | 23 | | | | | | | | | |
| | 24 | | | | | | | | | |
| | 25 | | | | | | | | | |
| | 26 | | | | | | | | | |
| | 27 | | | | | | | | | |
| | 28 | | | | | | | | | |
| | 29 | | | | | | | | | |
| | 30 | | | | | | | | | |
| | 31 | | | | | | | | | |
| Chapter V | 1 | | | | | | | | | |
| | 2 | | | | | | | | | |
| | 3 | | | | | | | | | |
| | 4 | | | | | | | | | |
| | 5 | | | | | | | | | |
| | 6 | | | | | | | | | |
| | 7 | | | | | | | | | |
| | 8 | | | | | | | | | |
| | 9 | | | | | | | | | |
| | 10 | | | | | | | | | |
| | 11 | | | | | | | | | |
| | 12 | | | | | | | | | |
| | 13 | | | | | | | | | |
| | 14 | | | | | | | | | |
| | 15 | | | | | | | | | |
| | 16 | | | | | | | | | |
| | 17 | | | | | | | | | |
| | 18 | | | | | | | | | |
| | 19 | | | | | | | | | |
| | 20 | | | | | | | | | |
| | 21 | | | | | | | | | |
| | 22 | | | | | | | | | |
| | 23 | | | | | | | | | |
| | 24 | | | | | | | | | |
| | 25 | | | | | | | | | |
| | 26 | | | | | | | | | |
| Chapter VI | 1 | | | | | | | | | |
| | 2 | | | | | | | | | |
| | 3 | | | | | | | | | |
| | 4 | | | | | | | | | |
| | 5 | | | | | | | | | |
| | 6 | | | | | | | | | |
| | 7 | | | | | | | | | |
| | 8 | | | | | | | | | |
| | 9 | | | | | | | | | |
| | 10 | | | | | | | | | |
| | 11 | | | | | | | | | |
| | 12 | | | | | | | | | |
| | 13 | | | | | | | | | |
| | 14 | | | | | | | | | |
| | 15 | | | | | | | | | |
| | 16 | | | | | | | | | |
| | 17 | | | | | | | | | |
| | 18 | | | | | | | | | |
Related Topics: Introductions, Arguments, Outlines