Radical Acts: the Fire of the Spirit Erupting through Believers
Related Media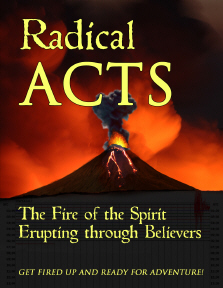 "radical" = having a profound or far-reaching effect

The Holy Spirit is a radical blessing to every believer and to the world. Through His transforming power in our lives, He changes the world immeasurably and irreversibly. Jesus implies in John 16:7 that it is better at this time to have the Spirit than to have Jesus Himself present on earth.

In this study of the book of Acts, you will see the fire of the Spirit erupting through the lives of believers. May this spark in you a real appreciation, longing, and expectation for the Holy Spirit's work in your own life. Through the lessons you will discover who the Holy Spirit is, His intended role in your life, and what it means to live in daily dependence upon Him. He is the one who will get you fired up for adventure as you follow Jesus daily. Are you ready?
NOTE TO EDITOR: all scripture references are from the NET Bible unless otherwise noted.
Related Topics: Curriculum