Pastor's Notes April 2011

Welcome to Pastor's Notes April Edition!!
HE IS RISEN!!
Easter is always a great time of the year. Personally I think it is the greatest of all days.
Christmas - not to take away from the birth of Jesus, but every man is born
Good Friday - not to take away from why Jesus died on the cross for us, but every man dies
Easter - Only one man has ever conquered death and rose from the dead.
What message is going to be coming across your pulpit?
---
Trying to fill up empty seats?
It's not too late to order NET Bible Pew Bibles for your church. Order this week and get our Pew Bibles ( http://bible.org/pew-bibles ) at $12 each when you buy a case of 10.  If you are interest in this please contact me
---
Find a (your) Church Program
We are in the final process of putting together our Find A Church program. We are going to promote from our front page a link that will help people find a church in their area. You can see an example of this by going to this link http://bible.org/churches  it should open up to your state.  We want to help people find you.
In order for this to work you need to go into your profile and either add or update your church information.  We will be color coding the flags for the churches. The pin you see now on the site will be the normal pin. If you have marked in your profile that you are preaching form the NET Bible your flag will be blue. If you are a NET Bible Church your flag will be a gold color.  A NET Bible church is a church that preaches form the NET Bible, has NET Bible pew Bibles in their church and uses some of our online widgets on their website ( NETBibleTagger, daily verse, search the Bible) 
We would like to start this soon. We still have some programming to do on our end, but we wanted you to get your profiles up to date so when we are ready to launch this your church is listed and ready to go.
Why list your church? Bible.org is the largest Bible Study site on the web. We have over 1 million people who visit our site each month, over 750 people are joining our website every week. Our visits are up over 30% from last year and we are still growing.
---
HE IS HERE - BECAUSE HE IS RISEN!
By Austin Phililips
Philippians 3:10 My aim is to know him, to experience the power of his resurrection, to share in his sufferings, and to be like him in his death, 3:11 and so, somehow, to attain to the resurrection from the dead.
Practically every year we read from the Gospels about the death and resurrection of Jesus Christ!  Churches are usually filled, many with people who have not attended since Christmas, but they come because they give mental assent to the historical reality of the death and resurrection of Israel's Messiah and our Savior, the Lord Jesus Christ.
Of course there are those who don't believe and even deny the truths we hold near and dear, but even some of them show up once in awhile.  So, it gives us the wonderful opportunity of "preaching the gospel", which will in far too many cases not be carefully explained and many will leave as ignorant and empty as they came.
I am convinced that in the verses above from Paul's letter to the Philippians, he thrusts the truth of the Gospel of Jesus Christ into us as a sword and if we can communicate this to our listeners, I believe the Holy Spirit will not only save the lost but CHANGE believers permanently.
The verse from the NET Bible is wonderful because of the phrase "MY AIM IS TO KNOW...EXPERIENCE...SHARE...BE LIKE...AND ATTAIN"!!!!  That is about as powerful as it gets!  It moves us out of history into the PRESENT and from the past into the future.  It transcends the limitations of time and space and transport into the dimension of infinity.  It is both objective and subjective!  Consider:
We can know (experientially) something that only a select few can or will ever know (experientially).  And, we can have this knowledge Personally.  When you and I are taken back in time to the historical account of the crucifixion and resurrection of Jesus, we have no frame of reference for relating to that.  It is simply a historical fact Christian believe, but when it become PERSONAL experiential knowledge through my identification with Him in that death, I can KNOW it experientially (spiritually, not physically).  I can DIE!
Paul did not say, "that I may know his death", because he already did positionally.  So he move on from the death with which he could identify with Jesus to the Power of His resurrection.  That also now become Personal!  It is the Power of the Holy Spirit who raised Jesus from the dead physically who has now raised me from death spiritually, so that I may now walk in newness of life.
Here is the clincher!  He knew the suffering before the death, but I can't know the suffering until after my identification with Him in that death and the outflowing power of His resurrection.  Only then, can I begin to know personally the joint participation in His sufferings as I share in the "afflictions of Christ" as Paul wrote.  NOW, ever pain, every heartache, every rejection, every criticism, every fault found, and every sin laid to my charge by the devil and those who represent him, are all a part of my sharing in the fellowship of His sufferings through the power outflowing from His resurrection.  It is all Personal now because He is in me and I am in Him.
Therefore -   HE IS HERE!  HE IS ALIVE AND LIVING IN ME!
HAPPY EASTER!
PREACH IT!
---
Bless and Be Blessed

By Clarence Johnson

 

It was the last Sunday of our internship at a small country church before my wife and I moved on to a new ministry. The envelope I was given contained cash that had been sacrificially given by hard-working people. I had a hard time accepting the gift and told the pastor it wasn't necessary. His response was, "You have to learn not only to be a blessing, but how to be blessed as well."

 

Across years of shepherding God's flock, those poignant words echoed in my heart. I was good at sacrificing and blessing others, but often missed the blessing God offered to me through them. The flock was given into my care by the Great Shepherd, but He also placed me in its care, too.

 

Writing to the church at Rome, Paul shares, "I long to see you, so that I may impart to you some spiritual gift to strengthen you, that is, that we may be mutually comforted by one another's faith, both yours and mine." (Romans 1:11-12)

 

Paul well knew and was open to the blessing that others could be in his life. When we, as pastors, are wrapped up in being a professional blessing to others, so many seeming insignificant but meaningful blessings are missed. A sincere handshake, a birthday card, a quiet "Thank You" are all God's blessings to us. My heart aches to think of the times I ran right by a blessing, missing the encouragement God intended for me, dismissing and disappointing the one who offered a gift from the heart.

 

I wonder what would happen to our ministries if we looked out from the pulpit this Sunday and saw the encouragement and blessings God was providing in the faces before us?
---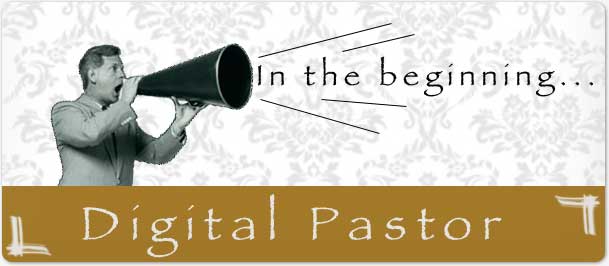 This Month's Digital Pastor is still the find that I found last month.  The Skit Guys They have some awesome stuff for Easter  and if you have not seen the Grace video yet please do.  I still cant say enough about the ministry of these guys.  This is still in my awesome find file!!
Have you ever heard of Skype? Skype is an online system that lets you talk to other Skype users, anywhere in the world, for free.  You can even video chat for free too.  There are some paid features but the free services alone lets you do so much that you may never need to upgrade to anything else.  We at bible.org use Skype as our main "Talk-to-each-other" system. We have group chats and sometimes we will even video chat.  A lot of kids are using Skype is even being introduced into the business world.  There are new free chat services popping up all over the place but at the moment this is the system that they are all aiming for.
---
NET Bible Webinars
We are still offering FREE one on one Webinars on how to get the most out of the NET Bible Study Environment. I was surprised by the amount of people who asked for a webinar.  We are still offering if you are still interested.  If you are interested please contact me to schedule a one on one webinar.
---
Closing Notes
We are still looking for people to help with our Pastor's Notes. Some of you have responded and as a result you will start seeing some more content added to our Pastor's Notes.  If you are interested please contact me. 
Do you know any college kids who have hands-on cyber security skills or
computer skills and a strong interest in security? If so tell them to
register this week for the online CyberQuests competition.   The 260 who
do best will get enormous career boosts by being invited to summer Cyber
Camps where the top teachers will challenge them and help them.
Congressmen, Governors, and other political leaders will recognize those
who do well and job opportunities are highly likely to follow.  Deadline
April 18.  Tell them to get more information and register at
http://uscc.cyberquests.org/
Related Topics: Pastors