The Theology Program (TTP) for Small Groups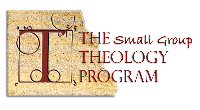 Small Group Bible Studies (meeting in homes or at church) have quickly become one of the primary ways in which Christians find a great combination of fellowship and the study of the Christian life during the week. It is a vital part of most churches' desire to create balance in their church life. The developers of The Theology Program have intentionally adapted the material in all seven courses of TTP to be used in such an environment. Whatever the make-up of your small group, TTP will add a much needed element of intellectual challenge, while stimulating great discussion that is both practical and penetrating.
Using TTP for small groups is easy. Click here to learn more (provide link to page which includes the following text along with TTP Small Group Logo).