Overview of The Theology Program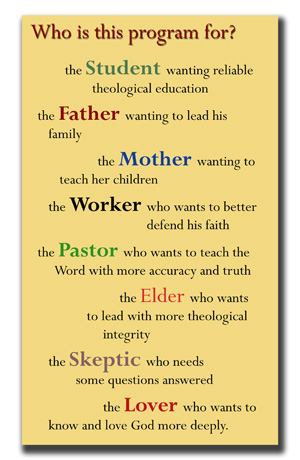 Most simply put, The Theology Program (TTP) is on a mission to reclaim the mind for Christ by equipping people, churches, and pastors, to understand and defend the Christian faith.
The Theology Program is a program of Christian theology (study of God) and apologetics (defending the faith) created with all believers in mind. TTP seeks to give people who may never have the time, ability, or circumstances that allow them to attend full-time seminary the same opportunity to study the great and rich Christian heritage of truth. Here, you will learn theology historically, biblically, and irenically (in a peaceful manner). The contents of TTP are created from a broadly evangelical perspective, engaging other traditions in a persuasive yet gracious manner. In short, we seek to help people think theologically by understanding what they believe and why they believe it.
We believe that all people are created in the image of God and therefore able and desirous to engage in a deep level of theological training that has traditionally only been offered at seminaries. TTP courses are designed with you in mind, walking you step by step through this comprehensive program.
If you have ever asked these questions, then this is the program for you:
» How do we know what books belong in the Bible?

» Do all religions lead to God?

» So many churches—what is the big difference?

» Why does everyone seem to interpret the Bible differently?

» The doctrine of the Trinity—can someone please explain this?

» Is The DaVinci code fiction or reality?

» Why should I study theology?

» So many versions of the Bible... Which one do I use?

» What about those who have never heard about Christ, can they still make it to heaven?

» Why does God allow bad things to happen?

» What is the difference between Protestants and Roman Catholics?

» Can we be sure that Christ rose from the grave?
Michael Patton is the director and primary teacher of this excellent 7 course program, while Rhome Dyck joins Michael, providing historical insight and color commentary. Both are directors at Reclaiming the Mind Ministries, are seminary trained and excellent teachers. The program materials they have created are of the highest quality, being created at Stonebriar Community Church in Frisco, TX. Students will learn how to think theologically right in their own home or in their local church. Let them be your teacher and guide.
There are several ways that you can benefit from TTP: individually, by starting a small group, or implementing the program in your home church setting.
If you would like to learn more about how to start a TTP small group, click here.
Related Topics: The Theology Program