Being A Man Can Be Dangerous: Unmasking the dangers every man faces
FOR IMMEDIATE RELEASE
by Baker Books (in partnership with bible.org)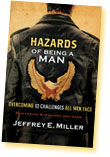 Individualism, lust, and insensitivity aren't traits that make men proud but they too easily rear their ugly head. To make matters worse, the only sure-fire way to handle them is to accept responsibility when they produce unpleasant behavior, another thing most men are not known for.
It might sound hopeless but Jeffrey E. Miller assures us it is not. In his new book Hazards Of Being A Man, (April, ISBN: 978-0-8010-6805-8, $14.99) Miller explains that 'sinning is a part of life just like fouling is a part of sports - it's inevitable.' But, he adds, 'God has built the concept of confession into our relationship with Him.'
The point is not simply doing the right things. That doesn't automatically make a mature or godly man. And it goes beyond relationships. 'This is not a book on being a better husband or father per se. It's about being a better man,' says Miller.
In all, Miller discusses twelve common challenges that men face: deflecting responsibility, manipulation, misplaced priorities, individualism, lust, insensitivity, absence, partial obedience, unresolved anger, discontentment, unteachablity, and unchecked motives.
Using examples of men from the Old Testament, Miller provides practical advice on how to improve behavior in each. Much like King Saul blamed his army for leaving the Amalekite king alive rather than accept his role in the sin, modern man instinctively blames his boss or his wife or the police rather than accept his sin. If we acted a bit more like King David, Miller argues, a man who sinned greatly before the Lord but admitted it immediately, we might be a bit easier to live with.
Jeffrey E. Miller (Th.M., Dallas Theological Seminary) is senior pastor of Trinity Bible Church in Richardson, Texas. He is the coauthor of the Zondervan Dictionary of Bible and Theology Words. He has written several articles for magazines and journals, and his teaching can also be found online on the popular website Bible.org. He and his wife, Jenny, have two children
Baker Books, a division of Baker Publishing Group, has a vision for building up the body of Christ at every level with books that are relevant, intelligent and engaging. We are focused on publishing books to equip the church and discerning lay Christians who want to stimulate their thinking.
###