How To Use NeXt Bible
NeXt Bible is a powerful new search and study tool to help you get the most out of your study time. It's great for:
Fast look up of your favorite passages and verses
Teacher's planning and preparing Bible studies
Individual study and background reading
See below for a list of features and how to use NeXt Bible.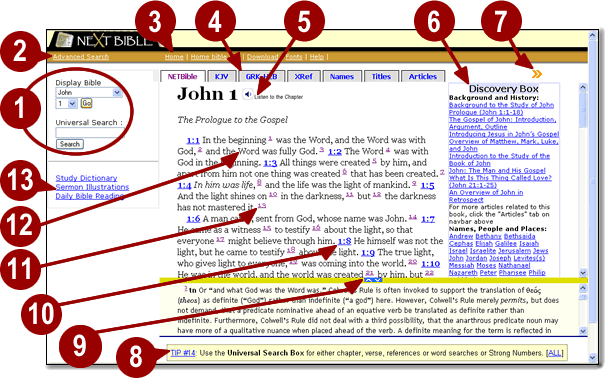 Bible Search and Display.

If you know the passage you are looking for, then choose the book and chapter from the drop down menu on the top left or type the book, chapter and/or verse you are looking for directly into the search field.
If you are not sure about the book, chapter or verse, then type what you do know into the search field and go directly there.
Also, when you hover over the search field the system will prompt you about the various methods you can use to find what you are looking for.

Advanced Search.

Use the advanced search method to quickly find very specific passages or to search for passages that meet your criteria.

Additional information bar. From the additional information bar you can:

Download the NET Bible (including all 60, 932 notes)
Access bible.org with thousands of trustworthy Bible study resources
Download fonts, get help using NeXt Bible and more

Reference Tabs. Use the reference tabs to:

View and compare the King James Bible
See the Greek and Hebrew
Cross reference specific passages
Look up Bible characters
Find related articles
and more

Listen to the NET Bible audio button.

Click this button to download and listen to audio NET Bible (New Testament only).

Discovery Box

Find additional information like background and history, links to people and places and more.

Next/Previous Chapter button.

This button takes you to the following or previous chapters of the NET Bible

Tip box.

Provides useful hints and additional information to get the most out of your NeXt Bible experience.

Change frame size buttons

Click and hold this blue button
Then head up or down the page (using your mouse) to change the portion of notes visible
Release the button while moving up or down
Then click the mouse once more to set it

Internet Verse Search.

NeXt Bible displays the verse reference for each verse and also allows you to see that verse in other translations using an automated internet search.

Note Display.

Clicking on a note reference displays the appropriate note in the frame below the text.

Word Search.

By double clicking on a word, NeXt Bible automatically displays other passages that word appears in.

Links to additional resources.

Look here for helpful links to additional resources.