2. Mary's Bible Box...Interactive Devotion for Girls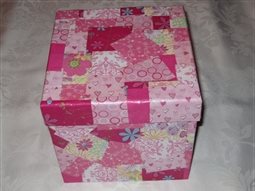 Mary's Bible Box
Make this cute box big enough to hold a small Bible, special Bible verses, and a journal.
Age: 6 - 11 year olds
Adult supervision recommended
Supplies:
·         1 Medium Box 6" x 6" (any color)
·         Scrapbook Paper Sheets (different colors and patterns)
·         Embellishments, Ribbon, Trim (optional)
·         1 Container of Mod Podge (waterbase sealer, glue & finish) Can be purchased at a craft store such as Michael's or Hobby Lobby. Do not use glue.
·         Foam Brush
·         Craft Glue for Embellishments
·         Scissors
·         Ruler
·         Newspaper (used to protect your work area)
What To Do:
Step One:
Cover your work area with newspaper.
Cut squares and rectangles from different scrapbook sheets. Using a ruler measure squares 2 inches by 2 inches, 1 1/2 inch by 2 inches, and 1 inch by 2 inches. Make sure there is a variety of different shapes, sizes, and patterns enough to cover the outside of the box and the lid.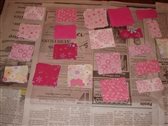 Step Two:
Select a square and brush Mod Podge on the back. Press the shape down on one side of the box. Continue adding shapes until the entire box is covered with the decorative paper. Select different shapes and patterns to cover each side of the box. Make sure the shapes overlap so that none of the box is showing and is completely covered. Work from side to side. Wait until one side is dry until moving to the next side.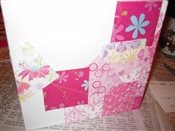 Step Three:
Glue squares or rectangles to the top and bottom edges of the box. Make sure the shapes do not stick above the top of the box or the bottom.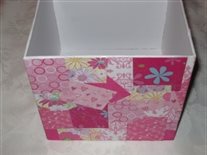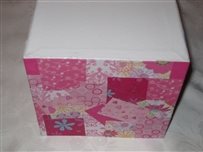 Step Four:
At each end of each side, overlap the shapes and fold them around the corner.
Step Five:
When all four sides have been covered with the decorated paper, brush extra Mod Podge over the entire box to seal. Do not set the box on it's side. Let dry 20 minutes. Glue on optional embellishments if desired.
Step Six:
Cover the lid the same way as the box. Overlapping shapes. When completed, brush the sides and top of the lid with Mod Podge to seal. Let dry for 20 minutes.
Do not put the lid on the box until everything is completely dry, about 1 hour.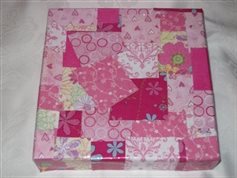 Step Seven:
Enjoy using your Mary's Bible Box!
Thoughts For Little Minds: A Special Friend
Do you know the story of Mary and Martha? Mary and Martha were two sisters from Bethany, the sisters of Lazarus, and they were dear friends of Jesus.
Do you have a sister or a brother? How are you alike? How are you different?
Even though Mary and Martha were sisters, and probably had some of the same physical traits and characteristics, they had very different personalities. When Jesus came to visit them they reacted in very different ways when He arrived. How do you act when your friends come to visit? Do you ever act differently when certain people come to your house? If so, why?
Let's see what happens when Jesus visits Mary and Martha at their home. Open your Bible to Luke 10 and read verses 38-42…or have your mom or dad read them to you.
Jesus had been traveling with His disciples for some time. As they traveled along the road they came to the village where Mary and Martha lived. When they arrived, Mary and Martha greeted Jesus in two very different ways.
How did Martha greet Jesus? Well Martha welcomed Him, but instead of spending time with Jesus, she quickly left and went off to do other things. You see, Martha was worried about all the preparations that needed to be made for the meal and she forgot the most important thing, spending time with Jesus. He quickly reminded her that all He really expected and desired from her was to spend time with Him and to listen to what He had to say. Her attitude was not focused on Jesus, but instead on herself and trying to get things done. Do you ever act that way towards Jesus, the way Martha did, and not spend time with Him? Do you let other things get in the way of your alone time with Jesus?
How did Mary greet Jesus? Mary, on the other hand, was very happy to see Jesus. She found a place to sit quietly at His feet as she listened to His teaching. You see, Mary wanted to spend time with Jesus and learn from His words. She was focused on what He had to say and desired to obey Him. All Mary did when Jesus arrived was to fall at His feet and listen. She was not preoccupied with other things, but instead chose to be with Jesus and to spend time with Him. Her desire was to have a relationship with Him.
How often do you let other things get in your way of spending time with Jesus? Jesus desires for you to get to know Him personally…as His friend. You cannot get to know Him without spending time with Him. When you meet someone and want them to be your friend, what do you do? That's right, you spend time with them, so that you can get to know them and develop a relationship and friendship. All Jesus desires of you is for you to have a close relationship with Him. He wants to be your special friend and He desires for you to listen and follow His words. Praying, reading your Bible, going to church, memorizing Scripture are all ways to get to know Jesus.
Mary and Martha's character demonstrated their love for Jesus, but their attitudes towards Him were different. Does your attitude demonstrate your relationship with Jesus? Do you spend time with Him every day? Have you talked to Him today? He wants to be your friend and for you spend time with Him. Let Him be your special friend…today!
Related Topics: Children's Curriculum