Lesson 50: How One Man Changed the World (Acts 20:1-16)
Related Media
If you know Christ as Savior and Lord, you desire to have God use you to make a difference for Him in the world. Last week I reread part of the story of Hudson Taylor, the pioneer missionary to China, and I thought, "The huge country of China is different today, 100 years later, because of Hudson Taylor's vision and commitment to take the gospel to that land." Then the convicting question hit me, "Will Flagstaff be any different because I have lived and labored for Christ here?" To be honest, I'm not sure that I have a satisfying answer to that question yet! But my heartfelt prayer is that God would so use me that this part of the world would be changed for His glory because I lived here.
The apostle Paul changed the world as few other men have ever done. He lived in a day before jet airplanes or cars and paved highways. He had to go everywhere by foot, on donkeys, or by sailing vessel, none of which were very speedy. He did not have a telephone to call and talk with the leaders of churches that he had founded around the Roman Empire. He couldn't even call someone across town. If he wanted to see the person, he had to walk across town and hope to find him at home. He didn't have computers, email, copy machines, or other modern tools that make communication easier. He spent many years of his ministry in prison, unable to move about freely. He contended with fierce opposition both from outside and inside the church. And yet, after 25-30 years of ministry, he left a lasting impact on the world, not only in his time, but also for all times.
How did he do it? Much of it must be explained as God's sovereign working through this man. As Paul taught, God has allotted to each of us various gifts and measures of faith (Rom. 12:3-8; 1 Cor. 12). Thus even if we're all faithful to the Lord, we will experience differing results in our ministries. It would be wrong to condemn ourselves because we don't see the same results that Paul or Hudson Taylor saw. But we can learn from the apostle the biblical principles that governed his ministry and seek to apply them to our own lives, whatever gifts and calling God may have given us.
I am convinced that at the heart of Paul's strategy was his unswerving commitment to establish and strengthen local churches.
Paul changed the world through his commitment to establish and strengthen local churches.
Jesus promised to build His church on Peter's confession of Him as the Christ, the Son of the living God, and that the gates of Hades would not prevail against it (Matt. 16:16-18). Paul traveled about preaching the gospel and helping the new converts begin to meet as local churches. Those churches in turn could evangelize their own areas, as well as train and send out new missionaries to evangelize and plant new churches in other areas, so that the process is multiplied many times over. He did this in Ephesus, so that after two years, all of Asia (western Turkey) heard the word of the Lord (19:10).
Paul was unrelenting in his commitment to the church. He was willing to pour out his life to see healthy churches established. He called the Philippian church his joy and his crown (Phil. 4:1). He told the Colossians of his great struggle on their behalf and for those in Laodicea, that they would be knit together in love and attain to all that wealth that comes from a full knowledge of Jesus Christ (Col. 2:1-2). He also told the Thessalonians that they were his joy and crown, and that he really lived if only they stood firm in the Lord (1 Thess. 2:19; 3:8). In 2 Corinthians 11:23-28, he goes through a long list of all of the labors and trials that he had gone through on behalf of Christ. The last thing he mentions is, "Apart from such external things, there is the daily pressure on me of concern for all the churches."
At first glance, our text shows us a slice of Paul's life describing his travels. Some things are skimmed over, and we can fill in many details from 1 & 2 Corinthians and Romans, which he wrote during this time period. Other things, such as his meeting with the church in Troas, are described in more detail. We might at first read these verses and think, "That's interesting, but it doesn't relate to my life." But I think that just below the surface of Luke's description of Paul's travels lies Paul's unswerving commitment to Christ's church. It was that commitment that was at the heart of how God used Paul to change the world for Jesus Christ. No matter what our individual gifts or calling, we need to be committed to the church of Jesus Christ if we want to see God use us to change our world for Him. Our text reveals four aspects of Paul's commitment to the church:
1. Paul was committed to establish and strengthen local churches that meet on Sundays for worship and instruction in God's Word.
Luke again silently joins the narrative when Paul passes through Philippi (20:5). The "we" sections of Acts ended about six years before, when Paul was previously in Philippi (16:16). We can conclude that Luke had been left there to pastor that new church. Now he again gives us eyewitness testimony as he travels with Paul to Troas and beyond to Jerusalem. Verses 7-12 give us an interesting description of Paul's meeting with the church in Troas. Note three features of this church meeting:
*The church met on Sunday. This is the earliest clear reference to the custom of the church to gather on the first day of the week, rather than on the Jewish Sabbath (Saturday). Some scholars say that the meeting took place on what we would call Saturday night, since the Jews reckoned time from sundown to sundown. But others argue that Luke was using the Roman method, which started the day at midnight, as we do, in which case this church meeting took place on our Sunday night. This is supported by the fact that the text says that Paul intended to leave "the next day" (20:7), which is identified as "daybreak" (20:12). Under the Jewish reckoning, daybreak would be the same day as the previous night. Also, the chronology here requires that Paul left Troas on a Monday morning, not Sunday (William Ramsay, St. Paul, the Traveller and the Roman Citizen [Baker], pp. 289-290). Thus this all-night church meeting took place on Sunday night.
You ask, "What difference does it make what day of the week the church meets on?" It makes a difference because the switch from Saturday to Sunday worship must have taken place because of the resurrection of Jesus from the tomb on Sunday morning. Why else would Jews, who largely made up the early Christian congregations and who had a God-given command and a centuries-long tradition of seventh-day worship, change to worshiping on the first day of the week? The only reasonable explanation is that the Lord Jesus, whom they worshiped, arose from the dead on that day. Thus the Sunday worship of the church is an evidence of and a testimony to the resurrection of Jesus.
Does this mean that Sunday is now the Christian Sabbath, and that Christians must follow the Jewish law regarding Sabbath observance? While there are differing views on this question (I disagree with some of my heroes, such as Charles Spurgeon, Hudson Taylor, and J. C. Ryle), I think that the Sabbath was the shadow that has now been fulfilled in Christ, the substance (Col. 2:16-17). He Himself is our "Sabbath rest" (Hebrews 4). The Sabbath command is the only one of the Ten Commandments not specifically repeated in the New Testament. Although Paul warned the Gentile churches about many things, he never mentioned breaking the Sabbath. Neither did the Jerusalem Council impose Sabbath-keeping on the Gentile believers (Acts 15). (John MacArthur, Jr., The MacArthur New Testament Commentary, Acts 13-28 [Moody Press], pp. 202-203, lists ten reasons why Christians are not required to observe the Sabbath, some of which I have used here.)
Although we are not under the Old Testament law regarding the Sabbath, I do believe that we should set aside the first day of every week ("the Lord's Day," Rev. 1:10; see also 1 Cor. 16:1) to gather with God's people for worship and instruction. Since Sunday was not a day off in the Roman Empire, and the slaves and others would have had to work, the church met on Sunday evening. We need to make it a priority to set apart time for gathering with the church on Sunday, and by doing so, we bear witness to the fact that our Savior is risen from the dead.
*The church met to worship the crucified and risen Lord. Luke sums up their worship by stating that they gathered "to break bread," a reference to the Lord's Supper. Weekly observance is not commanded, but it did seem to be the custom of the early church. If we could throw away our clocks and not have to be concerned about getting one service over so that the next service can get started on time, I would like to have communion every Sunday. Communion points us to our Savior's supreme sacrifice for our sins on the cross. It makes us examine ourselves to make sure that we have confessed all of our sins against the Lord and against one another. It reminds us of the need to feed spiritually on Christ and to rely on His grace. It should cause our hearts to be drawn to Him in love and adoration.
*The church met to be instructed from God's Word. Paul apparently preached in Troas for at least four hours, if not longer (until midnight)! Then, after the incident with Eutychus, he went back upstairs and talked with them (a different Greek word is used here, which indicates conversation) about the things of God until daybreak. Also, before Paul left Ephesus after the riot, he first exhorted the believers (20:1). Luke summarizes Paul's lengthy ministry in the districts around Macedonia by saying, "he had given them much exhortation" (20:2). As we saw in Acts 2:42, the early church devoted itself to the apostles' teaching.
Our text does not require that every sermon be four hours long ("Whew!"). Someone has said that if you're going to preach for that long, you also have to be able to raise the dead, as Paul did! This was obviously a special occasion, the only time that this church could hear the apostle Paul; but they were willing to stay up all night to do it! It illustrates what Paul later strongly commanded Timothy, to preach the Word (2 Tim. 4:1-5).
Paul's sermon got interrupted when this young man, Eutychus, fell asleep and fell out of the third story window to his death. The Greek word for "boy" (20:12) was often used of a young man between 7 and 14 years of age (New International Dictionary of New Testament Theology, ed. by Colin Brown [Zondervan], 1:283), although it was not always used that precisely in the New Testament (Matt. 2:16). If used in a social sense, it referred to a slave or servant. So Eutychus, whose name means "Fortunate" (or, "Lucky"), was probably a youth, perhaps a slave who had worked all day, and now was sitting on the window ledge, trying to fight off his drowsiness as he listened to Paul. Luke mentions the many lamps in the room perhaps to let us know that it was stuffy, since the lamps would have burned up some oxygen. But the boy fell asleep, fell out of the window, and was picked up dead (20:9).
Paul went down and fell upon him, embracing him much as the prophets Elijah and Elisha had done when raising dead young men to life (1 Kings 17:21; 2 Kings 4:34-35). Then he announced, "Don't be troubled, for his life is in him" (20:10). The almost casual way that Luke describes such a stupendous miracle makes some wonder if the boy had actually died, or whether Paul just resuscitated him. I think that we should take Dr. Luke's medical description, that he was dead. But in the context, Luke de-emphasizes the miracle by sandwiching it between Paul's sermon and his talking with the church on through the night afterwards. He seems to be making the point that it is the teaching of God's Word, not amazing miracles, that will sustain and strengthen the church.
The main task of a shepherd is to feed the flock (Ezek. 34:2). The trend in our day of "user-friendly" churches is to shorten the sermon into 15-minute sound bytes, since the younger generation has been reared on TV and can't handle a longer discourse. But as J. Vernon McGee used to say, "Sermonettes produce Christian­ettes." The church needs solid food from the Word to be healthy.
2. Paul was committed to train godly men for leadership in the local churches.
Paul had first planned to travel by ship from Greece to Israel, but he somehow learned of a plot by the Jews to kill him. It would have been easy for them to hit him over the head and throw him overboard en route. So he thwarted their plot by traveling north by land to Macedonia, where he then took a ship that put in at various ports along the coast of Asia.
Luke lists the names of the men who traveled with Paul (20:4). They were representatives of the various churches, entrusted with carrying their collection (which Paul had raised) to Jerusalem to help the poor believers there. We encounter some of these men in other Scriptures. Paul refers to Tychicus, for example, as "the beloved brother and faithful minister in the Lord" (Eph. 6:21; Col. 4:7). Many of these men were Gentiles whom Paul had seen come to Christ through his preaching. He spent time with them, teaching them and grounding them in the Scriptures. His strategy, as he explains to Timothy, was to entrust the things of God to faithful men who will be able to teach others also (2 Tim. 2:2).
If you have known the Lord for any length of time, you should be asking God to bring into your life some men (or, women to women) who are younger in the Lord, to whom you can entrust the things God has taught you. Look for "FAT" men: Faithful, Available, and Teachable. If they are lacking any one of those qualities, you'll be wasting your time. They must be faithful in their walk with God. They must have the time to get together. They must have teachable hearts. If you are younger in the Lord, pray that God would link you with an older brother who could do with you as Paul did with these men, to equip you for service.
3. Paul was committed to strengthen churches for mission.
For this point, I am relying on the entire context of the Book of Acts and Paul's epistles. We learn, for example, from Romans 15:19, that Paul had preached the gospel as far as Illyricum (modern Albania and Yugoslavia). He probably did that during his stay in Macedonia (20:2). I have often wished that Luke had given us more detail of the "much exhortation" that Paul gave to the churches of Macedonia and Greece during his many months there. But we probably have that exhortation distilled in the letters that Paul wrote to these churches. It was during his three months in Corinth (20:3) that he wrote his greatest theological treatise, the epistle to the Romans.
In all of his letters, it is clear that Paul was not strengthening the church so that it could be warm and cozy in its holy huddle, isolated from the lost world. He was strengthening the churches so that they could fulfill their mission of preaching the gospel to their own regions, and sending out workers to take the gospel where Christ had not yet been preached (Rom. 15:20). Paul's own goal was to visit Rome and then continue on to Spain (Rom. 15:24, 28). The church that turns in on itself and loses its outward focus on mission is a dying church.
Thus Paul changed the world through his commitment to establish and strengthen local churches that met on Sunday for worship and instruction. He was committed to train godly leaders for those churches who could, in turn, train others also. He was committed to strengthen these churches for mission.
4. Paul was committed to seeing local churches live in practical unity with other local churches, especially when there was cultural diversity.
From Paul's epistles (1 Cor. 16:1-4; 2 Cor. 8 & 9; Rom. 15:25-28) it is obvious that the driving force behind his trip to Jerusalem at this time was to deliver the collection that he had raised from the Gentile churches for the poor saints in Jerusalem. And the driving force behind his urging the Gentile churches to take up this collection was his desire to see the natural wall of separation between the Jews and the Gentiles broken down in the church (Eph. 2:13-22). Beyond that, Paul was burdened for his fellow-Jews who did not yet know Christ, so much so that he said that he would be willing to be cut off from Christ if it meant their salvation (Rom. 9:1-3). He saw this practical demonstration of Christian love as a means of unifying the Jewish and Gentile believers, and as a witness to Israel of the power of the gospel to transform the Gentiles.
One of Paul's recurring themes is the unity of the body of Christ, made up of members with diverse backgrounds, nationalities, and spiritual gifts (1 Cor. 12; Gal. 3:28; Eph. 2:13-22; 4:1-16; Col. 3:11). As you know, Jesus prayed that His followers, including those who would believe through the witness of the apostles, would be one, "so that the world may believe that You sent Me" (John 17:20-21).
It is essential that we affirm our fellow believers in Christ, whether they belong to our denomination or not. If they truly know Christ as Savior and Lord, we are one, and we must demonstrate our unity by our love. We sin if we wrongly divide from fellow Christians over minor doctrinal issues or personal preferences.
At the same time, we would sin to affirm our "unity" with those who name Christ as Savior, but who deny doctrines that are essential to the gospel. Our unity is based on the truth (John 17:17). This is why I refuse to participate in the upcoming "unity" service in Flagstaff, since it includes churches that teach that salvation requires our works added to faith in what Christ did for us on the cross. That is another gospel, which is not a gospel at all, and on such false teachers, Paul pronounces anathema, not love (Gal. 1:6-9). So we must be discerning, being careful to maintain unity with those who hold to the essentials, but separating ourselves from those who deny the gospel of God's grace.
Conclusion
I would like to ask each of you to ask yourself and to pray about the question, "How does God want to use me to impact my world for Jesus Christ?" The answer will differ with each of us, depending on our unique spiritual gifts and circumstances. But God won't use you to change the world by accident. You've got to focus daily on seeking first His kingdom and righteousness.
However God may use you to change the world for Christ, He will not do it apart from your commitment to the local church. The local church is God's appointed means for fulfilling the Great Commission. You must commit yourself to a local body of Christ where you can grow in Him and use your gifts to serve Him.
You may be thinking, "I tried that and got burned!" I understand. Paul often got burned by those whom he had led to Christ (read 2 Corinthians!). Every local church is made up of only one kind of people—sinners! You will get hurt if you commit yourself to work closely with sinners, even with redeemed sinners. But the church is God's ordained means of teaching us how to love one another. Let's face it, you don't need humility, gentleness, patience, and forbearance (Eph. 4:2) if you're a hermit! You need those qualities when you're a sinner redeemed by God's grace, committed to work with other redeemed sinners in the great cause of glorifying the name of Jesus Christ among the nations. How does God want to use you to change the world? Commit yourself to His church and get on with it!
Discussion Questions
How important is Sunday worship? Are we free to have our main gathering on other days? What are the practical implications of the term, "the Lord's Day"?
Someone says, "Having communion every week makes it a meaningless routine." Your response?
At what point is a believer mature enough to move from being discipled to being a discipler of others?
How can we practically demonstrate our unity with Christians who attend other churches? Should it be something structured or something organic and spontaneous?
Copyright, Steven J. Cole, 2001, All Rights Reserved.
Unless otherwise noted, all Scripture Quotations are from the New American Standard Bible, Updated Edition © The Lockman Foundation
Related Topics: Ecclesiology (The Church), Spiritual Life
The NET Bible Drawer
A simple short video to give you an overview of the NET Bible Drawer
How does the Drawer work?
On any article look for this icon on the upper right:

You can either click on it or drag it towards the center of the page to open the drawer. The Drawer can be set to any size width.
1 - Click on this to select different books and chapters.
2 - Place a term in the search box to find a specific verse.
3 - If you have a note for a verse you will see this icon.
4 - Click on a note number to have the note pop up at the bottom in the red box.
5 - View the note and when you are done click on the red x in the upper right or choose another book/chapter to make the note go away.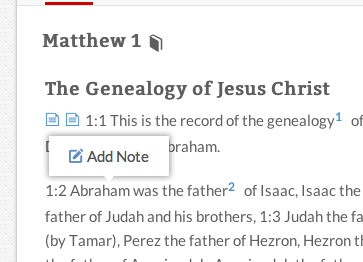 Click on any word within a verse and the Add Note icon will appear. Click on this to add a note to that verse.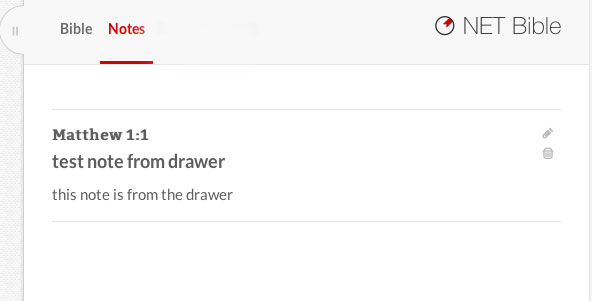 You can edit the note by clicking on the pencil icon or you can delete it by clicking on the trash can.
To get back to the drawer just click the word Bible in the upper left.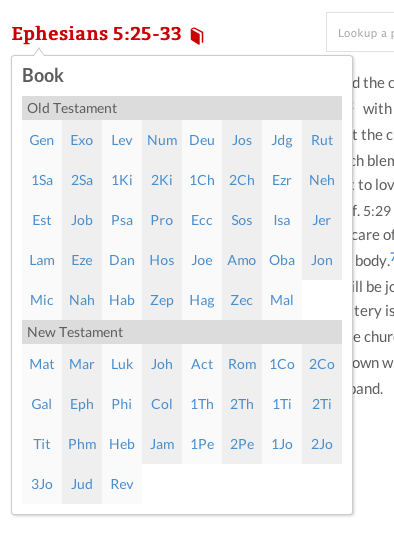 Click on the book and chapter listed at the top of the drawer and the navigation box will appear. From here you can select the book and chapter that you want to go to.
6. God's Judgment Is Righteous (Zephaniah 3:1-7)
Related Media
Zephaniah (part six)
We cry "unfair" when we don't get what we want or suffer what we don't feel we deserve. Get ready for a resounding "unfair" sung in unison by the chorus of humanity in the Day of the Lord's judgment. We've been trained to feel entitled to the good life today and forever. We assume that the universe simply owes it to us. God's righteous judgment will drown out the accusatory cries of "injustice" echoing from perishing humanity. The universe is His courtroom, and our protests, objections, and appeals will not thwart His honorable and just standards.
Related Topics: Character of God, Eschatology (Things to Come), Hamartiology (Sin), History
Lesson 51: Godly Leadership (Acts 20:17-21)
Related Media
When Satan wants to attack the church, he usually goes after the leadership. If he can bring down a prominent leader, or at least get people to slander him, he can discredit the entire gospel. Imagine the criticisms that could be brought against the apostle Paul if he were a modern missionary candidate! Here is how the mission board might respond to his application (I have modified this from several sources):
Dear Dr. Paul,
We have received your application to serve with our mission. Unfortunately, the board was unanimous in deciding not to accept you as a candidate with our mission. We want to be as honest as possible, so that you can address what we see as some serious deficiencies in your character and past service.
First, we understand that you have never had sufficient financial support in your missionary labors. Working on the side to support yourself is unacceptable to this board. If a man does not have the faith to trust God for full support, we think that he is not qualified to serve on the mission field.
Second, we have heard that you have been brash and outspoken about your own views. Specifically, we heard that you publicly criticized Dr. Simon Peter and that you contended so strongly with some of our ministers that a special council had to be convened at Jerusalem to prevent a church split. We cannot condone such radicalism. We are enclosing a copy of Darius Carnegie's book, "How to Win Jews and Influence Greeks." We encourage you to read it.
Also, we understand that you have not graduated from an accredited seminary. We are glad that you learned a lot during your three years in Arabia, but that does not count. Also, in our background check, we discovered that you used to be a violent man to the point of persecuting the church. Even since your conversion, you have been in jail on more than one occasion. You caused so much trouble for the businessmen of Ephesus that it led to a riot. If it were an isolated incident, that might be one thing. But a pattern of causing enough trouble to lead to your being beaten on several occasions and even being stoned once shows an underlying problem on your part. We would advise a counseling program where you could learn some basic relational skills.
Our background check further revealed that you have numerous critics and enemies, even in some of the churches that you supposedly founded. Some of those critics in Corinth challenge whether it was you or Apollos who had the most influence there. We also learned the details about your falling out with the fine young minister, John Mark, and your refusal to cooperate with Barnabas. We have talked with Hymenaeus and Alexander, who said that you delivered them over to Satan! We believe that such extreme measures are uncalled for! A more tolerant and less judgmental approach would be more in the spirit of our gentle Savior.
Apart from these serious flaws, we have heard that you are prone to preach too long, not being sensitive to your audience. We heard that one young man actually fell to his death while you droned on and on! You need to get in tune with the younger generation that has been raised on TV. Fifteen-minute sermons are the maximum that they can endure. We advise you to use more stories and less doctrine in your messages. Have you considered using a drama team instead of a sermon once in a while?
You admit on your application that you cannot remember those whom you have baptized. A good record-keeping system would help you to be more organized. Also, your resume shows that you have never ministered in one place longer than three years. This pattern of moving on to new works shows that you lack perseverance. Our staff psychologist also suggests that it may reflect a pattern of running from your problems rather than a commitment to work through them.
We share all of these things out of love and concern for you. We want you to succeed in whatever the Lord has for you. But we strongly believe that you would do best in something other than missions. The stresses of the mission field could lead to a complete nervous breakdown. Perhaps a good Christian counselor could help you begin to work through some of these problems. We wish you God's best.
Sincerely, The Antioch Mission Board
Our text records Paul's last encounter with the Ephesian elders. He wanted to get to Jerusalem by the Day of Pentecost, so he did not stop in Ephesus, which would have delayed him too long. So he sent and had the Ephesian elders come to him while his ship was in port at Miletus, about 30 miles south as the crow flies, but longer on the road. The elders were probably the pastors of the numerous house churches that met all over Ephesus. Probably many of them were the original twelve men that he met with in the school of Tyrannus (19:1-10) The title "elder" describes the maturity required for the office. In 20:28, Paul calls these same men "overseers" (bishops), which focuses on their main task, to superintend matters in the church.
This is our only example in Acts of a sermon addressed to Christians, or more specifically, to church leaders. Apparently, some of Paul's critics had been at work in Ephesus, trying to undermine him as a man of God and leader. This comes through in his repeatedly saying, "you yourselves know" (20:18, 34), and his reminding them of his character and way of life when he had been with them. He is clearly defending himself and at the same time showing us some qualities of godly church leadership. In a day when many church leaders have fallen into serious sin, the vitality of the church depends on our recovering these godly leadership qualities. Even if you are not a church leader, every fruitful Christian should be growing in these four qualities seen in our text:
A godly leader is marked by a servant attitude, transparent integrity, godly character, and faithful biblical teaching.
1. A godly leader is marked by a servant attitude.
Paul's servant attitude flavors this entire message, but he mentions specifically that he was "serving the Lord" (20:19). The word "serving" is the verb related to the noun "bond-servant" or slave. Paul often referred to himself as a bond-servant of Jesus Christ (Rom. 1:1; Gal. 1:10; Col. 1:7; 4:7; Titus 1:1). It was the way he viewed himself, and the way that every Christian should view himself. We do not belong to ourselves; we are slaves of Jesus Christ. We should do all that we do to please Him. If we have a sphere of service, we received it from Him (Acts 20:24).
This means that a leader primarily serves the Lord, and only secondarily serves the church. He will answer to God someday for how he fulfilled the stewardship entrusted to Him. I realize that sometimes a self-willed man will use that as an excuse for being unaccountable to anyone. If his board questions his behavior, he piously answers, "I don't need to answer to you; I answer to God!" That is a cop out. Everyone needs to be accountable.
But there is a legitimate sense in which a godly leader realizes that he will answer to God, and it keeps him from becoming a man-pleaser. As Paul said (Gal. 1:10), "For am I now seeking the favor of men, or of God? Or am I striving to please men? If I were still trying to please men, I would not be a bond-servant of Christ" (see also, 1 Thess. 2:4). This sense of pleasing God rather than men allows a godly leader to confront sin when necessary, and to preach difficult truth when necessary (more on this in a moment).
When a man truly sees himself as a servant of Jesus Christ, he will take up the towel and basin as Jesus did (John 13:1-17), and serve others out of love. Lording it over others is the world's way. Christ's way is that the greatest among us should be the servant of all (Mark 10:42-45).
2. A godly leader is marked by transparent integrity.
Paul said, "You yourselves know, from the first day that I set foot in Asia, how I was with you the whole time" (20:18). He later mentions that he was with them "night and day for a period of three years" (20:31). He was referring to spending a lot of time with these men, but I think that he was also referring to living his life openly before them. They had seen how he lived. He didn't put on a front when he was with them, but then live differently when he was away from them. He had nothing to hide.
Integrity means that what you are in private or at home is the same as what you are in public. Your life is a single fabric. This stems from the first quality, that you are aware that you are serving the Lord, who knows every thought and motive of the heart.
In the 1940's, a preacher named Will Houghton served as the President of Moody Bible Institute. An agnostic man, who was contemplating suicide, decided that if he could find a minister who lived his faith, he would listen to him. So he hired a private detective to watch Houghton. When the investigator's report came back, it revealed that this preacher's life was above reproach. He was for real. The agnostic went to Houghton's church, trusted in Christ, and later sent his daughter to Moody Bible Institute ("Our Daily Bread," 11/83). Leaders must be men of godly integrity.
3. A godly leader is marked by godly character.
Many godly character qualities could be listed, such as the fruit of the Spirit (Gal. 5:22-23). But three qualities stand out here:
A. Godly character includes humility.
You have probably heard it said that as soon as you think that you've attained humility, you've lost it. But that's not true. Paul here mentions his own humility. Jesus described Himself as gentle and humble in heart (Matt. 11:29). Moses described himself as the most humble man on the face of the earth (Num. 12:3)! So apparently, you can know when you are humble without being proud of it. What does it mean to be humble?
In a nutshell, biblical humility is a conscious awareness of your utter dependence on Jesus Christ. We see it in Paul when he explains, "Not that we are adequate in ourselves to consider anything as coming from ourselves, but our adequacy is from God" (2 Cor. 3:5). We see it when he says, "But we have this treasure in earthen vessels, so that the surpassing greatness of the power will be of God and not from ourselves" (2 Cor. 4:4). He confronts the pride of the Corinthians when he asks, "What do you have that you did not receive? And if you did receive it, why do you boast as if you had not received it?" (1 Cor. 4:7). A humble person is continually aware that all that he is stems from God's grace. His confidence is not in himself, but in the Lord, so that he is quick to give the glory to God in every situation.
I recently received a promotional letter from some folks in the church growth movement that reported a study that reveals "that although successful leaders have many strengths and various factors in common, there is only one factor that all successful leaders have in common—self-confidence" (emphasis in original). Having concluded that self-confidence is an essential quality for successful leaders, they proceeded to develop a tool that would help pastors develop confidence in themselves (I'm not making this up!).
But in the context of warning us about the deceitfulness of the heart, the Bible strongly warns against self-confidence (Jer. 17:5-9). True, we can do all things through Christ who strengthens us (Phil. 4:13). But there is a huge difference between confidence in Christ in us and confidence in ourselves. A godly leader depends on Christ and is quick to share his own weaknesses (2 Chron. 20:12; 2 Cor. 12:5-10). That is the essence of biblical humility.
B. Godly character includes love, concern, and compassion.
These qualities are behind the word "tears" (20:19). He again mentions his tears in 20:31, in the context of admonishing these elders, especially with regard to false teaching. There are more tears, both on Paul's and the elders' part, when they accompany Paul to the ship for their final goodbye (20:37). Paul's tears showed how much he cared about these men, and the feelings were mutual. As the old saying goes, "People don't care how much you know unless they know how much you care."
Paul was moved to tears when he heard of Christians who were not walking obediently to Christ. He wrote to the Corinthians, "For out of much affliction and anguish of heart I wrote to you with many tears; not so that you would be made sorrowful, but that you might know the love which I have especially for you" (2 Cor. 2:4). If you need to correct someone who has fallen into sin or serious error, make sure that the person senses your genuine love and concern.
C. Godly character includes steadfastness in trials.
The Ephesian elders had seen Paul go through the trials that came upon him through the plots of the Jews (20:19). The Book of Acts does not record any such plots in Ephesus, although it does report several other such plots of the Jews in other cities (9:23; 20:3; 23:12), and so it is not difficult to assume that the same thing had happened in Ephesus. The Ephesian elders had also seen Paul's behavior when the Gentiles rioted against him. In all of these situations, they saw Paul, even though he despaired of life itself, trust all the more in God (2 Cor. 1:8-10). He didn't grow bitter and rage against God that He wasn't being fair. He didn't lash out at the Jews in vengeance. He submitted to God's mighty hand and cast his cares upon Him (1 Pet. 5:6-7).
Thus a godly leader is marked by a servant attitude, by transparent integrity, and by godly character that includes humility, love, and steadfastness in trials. Finally,
4. A godly leader is marked by faithful biblical teaching.
Verses 20 & 21 reveal five aspects of faithful teaching:
A. Faithful biblical teaching requires not dodging difficult truths.
"I did not shrink from declaring to you anything that was profitable." This implies that some things that are profitable are difficult to receive, and thus difficult to teach. If Paul had been seeking to please men, he would have dodged these truths. If he had wanted to be a popular speaker, he would have chosen other subjects. But because he sought to please God, and because he knew that these truths were profitable for spiritual growth and health, he plainly taught what God wanted him to teach.
What were some of these truths? I think that we can surmise a few of them by reading Ephesians, which he later wrote to this church. He begins by talking about the doctrines of God's sovereign election and predestination (1:4-5). He goes on to talk about human depravity, that we were all dead in our trespasses and sins (2:1). Because of this, salvation is totally from God's grace, not from our merit or works (2:5-9). He shows how the wall of separation between Jews and Gentiles is broken down in Christ (2:11-22). All of these doctrines level human pride and exalt the cross of Jesus Christ. Because they rob man of any basis for pride, people stumble over these truths. But like health food, they are profitable for spiritual health, and so Paul taught them, and so should we.
B. Faithful biblical teaching requires practical application that helps people to grow in their faith.
Paul taught what was profitable or helpful for spiritual growth and health. He warns Timothy about those who teach things that lead to mere speculation and fruitless discussion, rather than furthering God's provision which is by faith (1 Tim. 1:4-7). As he studies the Bible, a faithful Bible teacher always asks, "So what? What difference should this Scripture make in my life (first), and in the lives of those whom I teach?" Sound application always comes out of sound interpretation of a biblical text in its context. You should be able to look at your Bible and say, "Yes, I see that this is what God wants me to do."
C. Faithful biblical teaching should take place both in formal and informal settings.
Paul taught these men publicly and from house to house. Paul taught these men in the school of Tyrannus, in the house church meetings, when they heard him preach in the Jewish synagogues, and in their various homes as they shared meals or got together socially. Sometimes it was the entire group at once. At other times, he met individually with one man to help him understand some doctrine or work through a personal problem biblically. The informal times reveal that Paul always loved to talk about the things of God with these men. He was constantly interacting with them about Scripture because it was central in his life.
D. Faithful biblical teaching reflects a seriousness about eternal truths.
Paul "solemnly testified" both to Jews and Greeks about repentance and faith. The word pictures a person under oath in a courtroom, solemnly swearing to tell the truth, the whole truth, and nothing but the truth. Paul realized that the eternal destiny of souls was at stake, and he didn't take his preaching assignment lightly.
There is a place for some humor in the pulpit, but it is easy to abuse humor so as to convey that we are not in dead earnest about eternal issues. I recently heard a sermon on a cassette, and I came away thinking that the preacher came across like a stand up comedian. His content would have been fine if he had conveyed it in earnest, but his repeated humor made it seem like a light-hearted, don't take it too seriously, kind of message. A faithful biblical teacher should convey the seriousness of the gospel.
E. Faithful biblical teaching proclaims repentance and faith as the core requirements for those who want to be right with God.
Some say that repentance toward God applies to the Gentiles, and faith in our Lord Jesus to the Jews. But there is no grammatical reason to take it that way, and the fact is, both groups need both qualities. Repentance and faith are the flip sides of the same coin. They are different ways of looking at the requirement for salvation, but you can't separate them from one another. Repentance means turning from our sin toward God. It is impossible to turn toward the holy God and at the same time consciously holding on to your sin. Repentance is the heart-felt cry, "O God, I have sinned against You, but I don't want to live that way any longer. Have mercy on me, the sinner!"
Faith is the hand that lays hold of God's provision in Christ. Faith looks to Christ as the righteousness that I need to stand before a holy God. Faith looks to Christ as the pardon for all my sins through His shed blood. Faith in the Lord Jesus means that I am not trusting in my own righteousness in any way, but only in Jesus as my mediator and advocate. Both faith and repentance are God's gifts, not a matter of human merit (Acts 11:18; Eph. 2:8-9).
And just as we begin the Christian life through repentance and faith, so we should go on living daily by repentance and faith (Col. 2:6). As God's Word shines into the dark areas of our lives, we turn from our sins and we trust in all that Christ is for us and in us. That is the Christian walk, repenting and believing, repenting and believing. Christ Himself is the object and sum of our faith.
Conclusion
Whether you are in an official leadership position or not, you should be growing in these four areas. Are you just living for yourself, or are you developing a servant's attitude? Are you living a double life, or are you growing in godly integrity? What about your character? Are you growing in humility, in love and concern for others, and in steadfastness in trials? And, while you may not have the gift of teaching, you should be growing in understanding and applying all of God's Word to all of your life and then sharing what you are learning with others. Congressman J. C. Watts said, "To say America can have strong leadership without strong character is to say we can get water without the wet" (Reader's Digest [12/98], p. 39). The same is true for the church!
Discussion Questions
How does a servant know when to say no to demands that people make on him?
How open should a leader be regarding his personal weaknesses and failures? Does transparency mean baring all?
What practical steps can we take to grow in humility?
Can love and kindness be joined with uncompromising faithfulness to God's truth? How? Where is the biblical balance?
Copyright, Steven J. Cole, 2001, All Rights Reserved.
Unless otherwise noted, all Scripture Quotations are from the New American Standard Bible, Updated Edition © The Lockman Foundation
Related Topics: Issues in Church Leadership/Ministry, Leadership, Pastors, Spiritual Life, Teaching the Bible
Lesson 52: Finishing the Course (Acts 20:22-27)
Related Media
It's easy to begin something new. Maybe it's a new diet or exercise program, a new job, or a new relationship with someone special. There is always a sense of excitement about a new beginning. But life isn't a 50-yard dash; it's a marathon. The trick is not just to begin well, but to finish well. I have known many who have gotten excited about serving the Lord in some way. They started with gusto. But then they got hit with criticism. They found that people didn't respond to their ministry as positively as they had hoped. They got into conflicts with their fellow workers. Perhaps the stress spilled over into their marriages. So after a few years, they left the ministry with a lot of bitterness and cynicism.
None of us want that to happen to us. Paul did not want that to happen to the elders in Ephesus. He wanted them, just as we want for ourselves, to sprint across the finish line, not to drop out of the race. He is sharing from his own life the secrets of a ministry that runs strong until the end of life. In his final letter to Timothy, he declared, "I have fought the good fight, I have finished the course, I have kept the faith" (2 Tim. 4:7).
The secret to Paul's strong finish is summed up in verse 24. I have a difficult task today: I want to convince you that verse 24 not only applied to the apostle Paul, but that it applies to each of you that knows Christ as Savior and Lord. Paul did not consider his own life of any account as dear to himself, in order that he might finish his course, the ministry that he received from the Lord Jesus. Paul is saying that to finish the race, he put his ministry above even life itself. In the same way,
To finish the course, you must put the ministry that you received from the Lord above even life itself.
You may be thinking, "That's fine for the apostle Paul or for those who have been called to the ministry or mission field. But, hey, I'm just a layman." Let's begin with a basic biblical truth:
1. To finish the course, you must recognize that God has entrusted a ministry to you.
There is no such thing in the Bible as a Christian without a ministry! We have fallen into a wrong way of thinking, where some who are super-committed go into "the ministry," but everyone else just putters around at serving the Lord in their spare time as volunteers. It is significant that every time in Scripture that the subject of spiritual gifts is mentioned, it uses the word "each" or "every" (Rom. 12:3; 1 Cor. 12:7; Eph. 4:7, 16; 1 Pet. 4:10). As Peter puts it, "As each one has received a special gift, employ it in serving one another as good stewards of the manifold grace of God." Every Christian has received a gift from God. Every Christian will give an account to God of his stewardship in using that gift for God's purposes, as Jesus taught in the parable of the talents (Matt. 25:14-30).
Thus whether you're a waiter, an accountant, a carpenter, or a housewife, if you're a Christian you must see yourself as being in the ministry, just as I'm in the ministry. I happen to get supported by my ministry and you may not. In that matter, you are more like the apostle Paul than I am! He chose to work in a "secular" job to pay his bills. Ministry is not just a task or sphere of service; it is a mentality or way of thinking that permeates all of life. Seeing yourself in the ministry means that you are available to God 24-7, to use you to help others draw near to God. It may mean serving someone in a practical way by meeting a need. It may mean sharing the gospel with an unbeliever or encouraging a believer by listening to his problems or by sharing relevant Scriptures. You can minister through giving or through prayer.
But whatever form it takes, ministry means not focusing on yourself, but on others by being available to God to work through your life. You won't fulfill the ministry that God has given you if you aren't even aware that you are in the ministry! But, you are! Maybe you're thinking, "I'd like to do that some day, but right now I'm just too busy to serve God." Consider this second point:
2. To finish the course, you must recognize that you are a conscript, not a volunteer.
Paul tells them that he is "bound in spirit," on his way to Jerusalem, not knowing what will happen to him there, except that the Holy Spirit solemnly testified to him in every city that bonds and afflictions awaited him (20:22-23). But this did not deter Paul or make him decide that it was time to move to that nice retirement community on the Aegean Sea, where he could play golf every day.
Why not? Why didn't Paul think, "Bonds and afflictions don't sound like a happy future. I think I'll opt for an easier course." Because Paul didn't see himself as a volunteer for Jesus. He saw himself as a conscript under orders from his commander.
It's difficult to determine whether the phrase "bound in spirit" should be spirit with a small "s" or with a capital "S." Some translations take it one way, and some the other. Some take it that Paul had an inner compulsion to go to Jerusalem, but it was not from the Holy Spirit. It was Paul's own idea. Donald Grey Barnhouse goes so far as to say that Paul was sinning by going there (Acts: An Expositional Commentary [Zondervan], pp. 185-187)!
But since Luke does not give us any hint that Paul was sinning or making a serious blunder here (or in 19:21), and since Paul was a man who walked in close fellowship with Christ, I conclude that it was the Holy Spirit impelling Paul to go to Jerusalem, while at the same time warning him of the hardships that he would encounter there. In other words, Paul saw himself as a conscript who had been drafted into the Lord's army. He was under orders. So he sought to obey what he believed the Holy Spirit was commanding him to do.
All too often, the church conveys the wrong message, that we are looking for volunteers to serve Jesus. The problem with that view is, if you can choose to serve, then you can also choose not to serve or to quit serving if the service isn't to your liking. But conscripts don't have a choice. If you get drafted, you serve in the army because you were chosen to serve. You may not like the food, you may not like your living quarters, and you may not like where the army assigns you to go. But you serve anyway because you are under orders.
That's how Christians ought to see themselves. If Christ bought you with His blood, you belong to Him as His slave. Slaves don't choose to serve. They're under orders. If the service isn't pleasant or fun, they're not free to quit. To finish the course, we need to see ourselves as conscripts, not volunteers.
3. To finish the course, you must sign over your life to Jesus Christ, expecting hardship as you follow Him.
Paul did not consider his own life of any account as dear to himself. If following Christ meant hardship, slander, imprisonment, or death, he had settled the issue long ago. He was willing to die for the Savior who had died for him. When James Calvert went out as a missionary to the cannibals of the Fiji Islands, the captain of the ship sought to turn him back. "You will lose your life and the lives of those with you if you go among such savages," he cried. Calvert replied, "We died before we came here." Those faithful missionaries had signed over their lives to Jesus.
Again, there is the mistaken idea in evangelical circles that there are two options for the Christian life. The most popular option is to sign up to go to church when it's convenient, drop a few bucks in the offering plate now and then, and live for the American dream of accumulating enough money and stuff to live a comfortable life. If you have time, you may decide to volunteer at church, but only if it's convenient. Your priority in life, under this option, is to enjoy yourself, live a good life, and someday to retire and spend the last 15 years of your life driving around America in your motor home, or playing golf in sunny Arizona.
The second option is not so popular. It's only for gung-ho types, who probably signed up for the Green Berets during Vietnam. In this option, you're admittedly something of a fanatic. You give up the American dream and any right to your own will in order to serve Jesus. You live a pared-down lifestyle and give away lots of money to the Lord's work. Or, you may even give up the comforts of America and go live in difficult conditions to reach people for Jesus. As a missionary, nobody expects you to live at the same comfort level as the folks back home do. If you did, your commitment to the cause would be suspect! But the folks back home aren't called to the same level of commitment as you are! You're called to deny yourself because you're on the missionary track of commitment. They have not been called to that.
But look at Mark 8:34-35. Jesus was speaking not only to His disciples, but also to the crowd: "If anyone wishes to come after Me, he must deny himself, and take up his cross and follow Me. For whoever wishes to save his life will lose it, but whoever loses his life for My sake and the gospel's will save it." In the context, Jesus wasn't calling people to some super-committed discipleship track. When He called people to radical self-denial, to the point of death (as "taking up your cross" implies), He was calling them to salvation! Every follower of Jesus, not just a few super-committed, is called to this total, all-out, lay-down-your-life kind of commitment! Jesus is pretty graphic about what He will do with those who profess to know Him, but are lukewarm in their commitment: He will vomit them out of His mouth (Rev. 3:16). So if on a scale of 1-10 you'd rate your commitment to Jesus as 5 or 6, you'd better turn up the heat! You need to be totally surrendered to Jesus and His will, even if it means hardship to the point of martyrdom.
The Bible makes it clear that following Jesus will mean hardship at some level. Not everyone will be tortured or martyred, but Paul plainly states, "Indeed, all who desire to live godly in Christ Jesus will be persecuted" (2 Tim. 3:12). As he encouraged the new believers in Galatia, "Through many tribulations we must enter the kingdom of God" (Acts 14:22). He urged the Thessalonians not to be disturbed by their afflictions, because "we have been destined for this. For indeed when we were with you, we kept telling you in advance that we were going to suffer affliction; and so it came to pass, as you know" (1 Thess. 3:3-4).
You may be thinking, "Why would I want to sign over my life to Jesus if it means that I can expect hardship and affliction?" The answer is, because the only other option is to live for yourself and worldly pleasure here and now, and face God's judgment and wrath in hell for eternity! Remember, if you try to save your life by living for yourself, you'll lose it. But if you sign your life over to Jesus and the gospel, you'll save it. Those are the words of Jesus Christ, not of Steve Cole!
Once you entrust your life totally to Christ, you don't need to live in fear of the future, because your future is in His hands. Thankfully, God doesn't let us know the details about what will happen to us in the future. I've often thought that I wouldn't want to know what King Hezekiah knew, that he had 15 more years to live. Think of the anxiety as you faced the final countdown! The Holy Spirit told Paul that bonds and afflictions awaited him, but nothing more. We should live each day all-out for the Lord, knowing that if He brings trials into our lives, He will also give us the grace to endure them. But we must live in light of eternity, not for the fleeting pleasures of this life only. The only way to live in light of eternity is to be totally abandoned to Jesus Christ here and now, trusting in Him in every trial.
Thus, to finish the course, you must recognize that God has entrusted a ministry to you and that you are a conscript, not a volunteer. You must sign over your life to Jesus Christ, expecting hardship as you follow Him.
4. To finish the course, you must keep the finish line in view: faithfulness to the gospel of God's grace.
To finish the course, Paul said that he needed "to testify solemnly of the gospel of the grace of God" (20:24). Not everyone is called to be a preacher or missionary, as Paul was. But with whatever gifts God has entrusted to us, the bottom line is the same: we must be faithful by our lives and words to the gospel of the grace of God. If our lives and words betray the gospel of God's grace, we are in some sense guilty of the blood of those who were tainted by our failure (20:26). If our lives and our words bear witness to the gospel of God's grace, we are innocent of the blood of those who came in contact with our witness.
Paul here is referring to God's words to Ezekiel, that He had appointed him as a watchman over Israel. If the watchman sees the enemy coming and doesn't sound the warning, he is liable for the city's destruction. But if he sounds the warning and the people ignore him, he has delivered himself; their blood is on their own heads (Ezek. 3:17-21; 33:1-9).
I confess that I do not totally understand what the Lord means when he tells Ezekiel that He will require the blood of wicked men from Ezekiel's hand if he doesn't warn them of impending judgment. It must mean a loss of rewards in heaven, because Ezekiel was clearly a saved man who could not be eternally condemned. But whatever it means, it's a scary warning! More than once God has used that warning to give me the courage to confront someone who was in sin. I feel a need to deliver myself before God, whether the person I confront likes me or not.
If you want to be innocent of the blood of all men, keep your eye on the finish line. There you are, standing before the Judge of the whole earth. To hear "well done," your life and, as God gives opportunity, your words, must bear witness to the gospel of God's grace. His gospel of grace is the good news that He will pardon guilty sinners who trust in Christ. But it also includes the bad news that He will eternally damn all who trust in themselves or their own good works, thereby spurning what Christ did on the cross. If people are not convicted about their sin before a holy God, they will not flee to Christ for refuge from God's wrath.
Paul uses the phrase "preaching the kingdom" (20:25) as parallel with "the gospel of the grace of God" (20:24). The kingdom is the realm where Jesus is Lord and King. Our lives and words must bear witness to the lordship of Jesus if we want to hear "well done" when we cross the finish line. So keep your eye on that goal, to bear witness of the gospel of God's grace and of the lordship of Jesus Christ.
5. To finish the course, you must feed on and proclaim the whole purpose of God.
Paul told these men, "For I did not shrink from declaring to you the whole purpose of God" (20:27). That phrase implies that Paul was balanced in teaching the full breadth of God's Word. Heresy is often truth out of balance. Paul didn't ride theological hobbyhorses. He refers to God's purpose in Ephesians 1:11, where he says that we have been "predestined according to His purpose, who works all things after the counsel of His will." We do not proclaim the whole counsel of God if we tiptoe around the doctrine of God's sovereign predestination (see also, Acts 2:23; 4:28; 2 Tim. 1:9). On the other hand, we do not proclaim the whole purpose of God if we fail to teach what Scripture so plainly teaches, that every person is responsible for his sins and that everyone is commanded to repent and to trust in Jesus Christ as Savior and Lord (Acts 16:31; 17:30). Both doctrines are true.
As Paul explains in Ephesians 3:1-12, the purpose of God includes the mystery, that the Gentiles are now fellow members of the body of Christ through the gospel. That was a hard teaching for the Jews to swallow, but Paul taught it. Teaching the whole purpose of God means that we don't dodge the hard truths of God's Word. If His Word reproves sin, we reprove sin. If it corrects wrong thinking, we correct wrong thinking.
You may not be gifted to preach and teach God's Word, but you are responsible to grow to understand the whole purpose of God and through whatever gifts He has given you, to impart your understanding to others.
Conclusion
John G. Paton was born in Scotland in 1824. He was reared in a godly home and came to personal faith in Christ. As a young man, he worked in an inner city mission in Scotland. But the Lord put it upon his heart to go as a missionary to the fierce cannibals of the New Hebrides Islands in the South Pacific. In 1839, the first missionaries to these islands had been clubbed to death, cooked, and eaten within a few minutes of landing. About ten years later, some other missionaries had landed on another of the islands where the natives showed an interest in their teachings, and the Lord gave them about 3,500 converts in a short period of time. They needed help in the work.
So in 1857, just 18 years after the first martyrs had shed their blood on the beach of the New Hebrides, Paton strongly sensed God's call on his life to offer himself for missionary service there. He immediately met with strong opposition from many that knew him. They argued that he was leaving a certain ministry that God had obviously blessed for an uncertain future where he might throw his life away among the cannibals. His converts needed him and besides, there were plenty of heathen at home to reach. Why go half way around the world to reach these savages? He was even offered a free house and was told to name his salary, on condition that he would stay at home! But these temptations only served to confirm his calling to go to the South Seas.
Among the many who sought to deter him was one old Christian gentleman, whose crowning argument was always, "The Cannibals! You will be eaten by Cannibals!" Finally, Paton replied, "Mr. Dickson, you are advanced in years now, and your own prospect is soon to be laid in the grave, there to be eaten by worms. I confess to you, that if I can but live and die serving and honoring the Lord Jesus, it will make no difference to me whether I am eaten by Cannibals or by worms; and in the Great Day my resurrection body will arise as fair as yours in the likeness of our risen Redeemer" (John G. Paton Autobiography [Banner of Truth], p. 56).
Paton lost his wife and infant son within a few months of their arrival. He lived in almost daily danger of his life. But God spared him and he lived to age 83, spending his final years traveling around the world publicizing and raising support for the mission. Late in life he said, "Oh that I had my life to begin again! I would consecrate it anew to Jesus in seeking the conversion of the remaining Cannibals on the New Hebrides" (p. 496).
John Paton finished his course because he put the ministry that he received from the Lord Jesus above even life itself. I hope that I have convinced you that you need to do the same thing.
Discussion Questions
Is ministry the calling of every Christian or only of some? Give biblical support for your answer.
How do you know whether to hang in with a difficult ministry or if it is God's way of moving you to a different ministry?
Why should every Christian flee from "the American dream"? Is it wrong to look forward to a comfortable retirement?
Does verse 26 imply that somehow Christians can be responsible for another person's going to hell? What does it mean?
How can we discern whether we are balanced in our understanding of God's whole purpose?
Copyright, Steven J. Cole, 2001, All Rights Reserved.
Unless otherwise noted, all Scripture Quotations are from the New American Standard Bible, Updated Edition © The Lockman Foundation
Related Topics: Discipleship, Spiritual Life
Lesson 53: Job Description for Church Leaders (Acts 20:28)
Related Media
"All right, let's come to order. We've got a lot of business to take care of tonight. First on our agenda is what color to paint the social hall. There will be a work day at the church in two weeks, and we need to decide. It's been green for as long as I remember, but I think we need a change. Let's paint it off-white. Yes, Bob?"
"If you paint it off-white, you're going to have a rebellion on your hands! Some of our members have been used to a green social hall for 40 years. They might withhold their giving if you change the color!"
"Okay, let's take a vote. All in favor of off-white? Two. All in favor of green? Five. It stays green. Ernie, will you buy the paint?"
"Our second agenda item concerns the offerings. They've been down lately. We need to figure out some ways to get them back up to par. Any ideas?"
That sort of church leadership meeting probably sounds familiar if you've been involved with very many churches. In many churches, the leadership board functions pretty much like the board of any organization, following Robert's Rules of Order, taking care of business decisions, and voting on matters in democratic fashion. It is often assumed that the pastor takes care of the spiritual needs of the church, while the board, elected by the congregation, takes care of the business of the church.
Thankfully, that is not the way our elder board functions, because I believe that the common way described above is not in line with Scripture. It is important for all of us to understand biblically what church leaders should do. Our text, which is at the heart of Paul's farewell address to the Ephesian elders, gives us a biblical job description for church leaders. It shows us that …
The main job of church leaders is to shepherd God's flock.
Before we look at how Paul tells the church leaders to do that task, let's clarify some terms and concepts that may not be clear because of cultural ways of viewing church government. First, the leadership in a local church is always plural, not singular. Paul "called to him the elders of the church" (20:17). Every time in the Bible the term elder is used with reference to a local church, it is in the plural (Acts 11:30; 14:23; 15:2; Titus 1:5). The only time that the New Testament refers to a single man who seemed to be running a local church, it is not positive (Diotrephes, who loved to be first among them, 3 John 9-10). The Lord knows the propensity of the fallen human heart to abuse power, and so He designed leadership in the local church to be multiple, not singular, to check that tendency and to provide the wisdom of several over one.
Second, the leaders in the local church are referred to by various terms. "Elder" comes mainly from the Jewish synagogue, whereas "overseer" comes from the Greek culture (F. F. Bruce, The Book of Acts [Eerdmans, p. 416, note 56), but they are used in the New Testament to refer to the same men (Acts 20:17, 28; 1 Tim. 3:1; 5:17; Titus 1:5, 7). The term "elder" focuses on the necessary maturity of the man, whereas "overseer" focuses on the main responsibility, to superintend or manage the local church. The term "pastor" looks at the leader from the metaphor of a shepherd (Acts 20:28; Eph. 4:11; 1 Pet. 5:1-4). Sometimes the term "leaders" is used (Heb. 13:7, 17, 24, from one Greek verb; Rom. 12:8; 1 Thess. 5:12, from another Greek verb).
In 1 Timothy 5:17-18, Paul distinguishes between elders who rule well and work hard at preaching and teaching, who are worthy of financial support; and, the other elders, who presumably did not receive such support. In modern terms, the pastoral staff is generally made up of the teaching elders who are supported. The other elders support themselves by an outside job and thus cannot devote as much time to the church. But this should not imply a distinction between so-called "clergy" and "laity," because every Christian is in the ministry, as we saw last week.
Hebrews 13:17 commands church members to obey their leaders and submit to them (a radical concept in our day!), because "they keep watch over your souls as those who will give an account" (a scary thought for church leaders!). This implies that the local church is not to be governed as a pure democracy, where the congregation has ultimate authority. That authority and responsibility for the spiritual condition of the church before God lies with the leaders. Of course the leaders must be accountable to the Lord, to one another, and to the congregation (1 Tim. 5:19-20). Wise leaders should involve the congregation in major decisions (Acts 6:2-3).
The main idea of New Testament church government is that the risen Lord Jesus Christ is the Chief Shepherd (1 Pet. 5:4; Heb. 13:20) or head (Eph. 5:23) of His church. The church, through the leadership of the elders, is corporately to seek the mind of the Lord for His church. This requires that every member, but especially the leaders, walk closely in dependence upon the Lord, in knowledge of and obedience to His Word. This is far different than a democracy where everyone "votes his mind" and the majority vote wins.
With that as background, let's examine how Paul says that church leaders should shepherd God's flock. They must be on guard for themselves first, and then for all the flock.
1. To shepherd God's flock, church leaders must pay close attention to themselves.
The verb translated "be on guard" has the nuance of turning one's mind to, or attending to. The opposite would be to neglect or be oblivious to something. Before a man can shepherd God's flock, he must shepherd his own soul. Before he gives oversight to a body of people, he must give oversight to his own walk with God. Church leaders must practice what they preach by applying God's Word to themselves first. Elders are to be examples to the flock (1 Pet. 5:3), which requires paying attention to themselves. Our spiritual lives do not run on auto-pilot. We must constantly pay attention or we will get off course. We can break this down into three broad areas:
A. A church leader must pay close attention to his heart before God.
Proverbs 4:23 states, "Watch over your heart with all diligence, for from it flow the springs of life." God does not look on the outward person, but at the heart (1 Sam. 16:7; 2 Chron. 16:9). His penetrating Word judges the thoughts and intentions of the heart (Heb. 4:12). Thus a primary requirement for every church leader is often to examine his heart in the light of Scripture, confessing and repenting of all sin so that he grows in true godliness.
This is where every leader must be brutally honest with himself before God. If we play games here, we become like the Pharisees, whom Jesus condemned as hypocrites. They were like whitewashed tombs, beautiful on the outside, but full of dead men's bones and all uncleanness on the inside (Matt. 23:27). It's easy to look good on the outside before the church, especially if you're involved in preaching and teaching. Everyone thinks, "What a godly man!" But all the while, if you're not walking honestly before God in your heart, you can be secretly engaging in lust, pride, greed, and all manner of evil. When I teach on an area where I struggle, I try to be honest about that fact with those I am teaching, so that I don't fall into hypocrisy.
So we have to do business with God, beginning on the thought level. Am I taking every thought captive to the obedience of Christ (2 Cor. 10:3-5)? Am I judging wrong attitudes toward God and others? Am I submitting in my heart to God's dealings with me? Am I developing the fruit of the Spirit (Gal. 5:22-23) and the qualities required of elders (1 Tim. 3:1-7; Titus 1:5-9)? Is my love for God growing or declining? Being on guard for myself means paying attention to my heart before God.
B. A church leader must pay close attention to his doctrine.
Paul goes on to warn the elders of the dangers of falling into false doctrine (20:20). Elders must be able to teach (1 Tim. 3:2). They must hold fast the faithful word so that they "will be able both to exhort in sound doctrine and to refute those who contradict" (Titus 1:9). This does not mean that every elder will have the gift of teaching publicly, but every elder should be knowledgeable enough about biblical truth to be able to spot false teaching and to set forth what Scripture teaches. Part of being able to teach is to be teachable and growing in your grasp of biblical and systematic theology. Not every elder will have the opportunity to study theology in a seminary, but every elder should be reading and growing in his overall grasp of biblical truth.
C. A church leader must pay close attention to his relationships.
I have seen pastors who can preach well and they know the Bible and theology, but they are abrasive or insensitive to others. Sometimes they are nice to church members, but they verbally abuse their wives and children. But a primary qualification for an elder is that he manage his own household well (1 Tim. 3:4). That certainly includes maintaining biblically loving relationships with his family. If we lose our temper and yell at our mates or children, we should be quick to confess it to the Lord and to seek the forgiveness of the ones we sinned against. And we need to take the necessary steps to gain control over anger. "The anger of man does not achieve the righteousness of God" (James 1:20). A quick-tempered man is not qualified to be an elder (Titus 1:7).
Also, it is crucial for every elder to guard his relationships with the opposite sex. When a church leader falls into sexual sin, the name of Christ is dishonored and many in the church and outside of it are hurt. If an elder is distant from his wife and is growing close or is attracted to another woman, he is in serious danger and needs to seek help immediately. Every elder must avoid situations where he could be tempted. He should not flirt or do anything that opens the door for unfaithfulness.
So the first requirement for shepherding God's flock is to shepherd yourself by paying close attention to your heart before God, to your doctrine, and to your relationships. We cannot minister to others if our own lives are not exemplary.
2. To shepherd God's flock, church leaders must pay close attention to all the flock.
A shepherd who does not pay attention to the flock is a negligent shepherd. In Ezekiel 34, God condemns the shepherds of Israel who fed themselves but did not feed the flock. Rather, they used the flock for their own purposes and did not care when the flock was scattered and prey for wolves. Paul here gives the mandate, the model, and the motivation for paying close attention to God's flock.
A. The mandate for paying close attention to the flock is the fact that the Holy Spirit appointed you as an overseer.
Elders (or overseers) are to desire the office (1 Tim. 3:1), but they do not "run for office" in political fashion. Graduating from an accredited seminary is not by itself a sufficient reason to put a man into the office of pastor-teacher. The church should never put a man into the office of elder because he contributes a lot of money to the church or because he is a leader in the business world or because everyone likes him. Especially the church should never put a man into office in an attempt to get him involved!
Paul reminds these Ephesian elders that the Holy Spirit appointed [lit. Greek] them as elders. What did he mean? In Acts 14:23, we see Paul and Barnabas on the first missionary journey appointing elders in the various churches after a time of prayer and fasting. In Titus 1:5, Paul tells Titus that he is to appoint elders as Paul directed, and then Paul lists the necessary qualifications. F. F. Bruce is thus correct when he states (ibid.), "Probably the reference to the Holy Spirit here does not mean that their appointment to this sacred ministry had been commanded by prophetic utterance in the church, but rather that they were so appointed and recognized because they were manifestly men on whom the Holy Spirit had bestowed the requisite qualifications for the work."
This is why I dislike saying that we are going to vote for new elders. It is better to say that we are going to recognize new elders. In other words, by the consensus of the body, we acknowledge that a man approximates (no one fulfills them perfectly) the qualifications listed in 1 Timothy 3 and Titus 1. This is why we do not take last minute nominations for elder from the floor at our annual meeting. Every candidate for elder must first fill out an extensive questionnaire and answer some very personal questions. The elders go over this with him, clarifying any areas where there may be questions. If during the screening process, anyone in the body knows a reason why this man should not be an elder, they need to bring it to the attention of the elders. Our aim is to recognize men as elders on whom the Holy Spirit has already bestowed the requisite qualifications for the work.
B. The model for paying close attention to the flock is that of a shepherd.
Paul refers to the church as a flock and tells the leaders that their job is to shepherd this flock. The metaphor was much more familiar in biblical times than in our culture, where many of us have never observed a flock of sheep for any longer than it takes to drive by on the road and say, "Look, a flock of sheep!" While books are written on it, I must limit myself to three aspects of what it means to shepherd God's flock:
1) Shepherding the flock involves caring for God's people.
The good shepherd cares for every aspect of his flock's well being. Paul mentions all the flock; no one should be overlooked or ignored. A shepherd will genuinely care about every person in the church, desiring that each one grow in Christ. Paul told the Thessalonians, "But we proved to be gentle among you, as a nursing mother tenderly cares for her own children. Having so fond an affection for you, we were well-pleased to impart to you not only the gospel of God but also our own lives, because you had become very dear to us." He goes on to remind them of how he had exhorted, encouraged, and implored each one as a father would his own children (1 Thess. 2:7-8, 11).
Caring about people involves effort. If that were not so, Paul would not have had to command these elders to pay close attention to all the flock. It's always easier just to talk to the people you know at church, rather than to meet new people. It takes effort (a great deal of effort for some of us!) to try to remember names. I try to write down the names of new people I meet soon after talking with them. I go over the list of visitors who fill out the welcome slip. While some are more naturally gifted at remembering names, all of us need to work at it.
Beyond the effort to remember names, it takes effort and time to get together with people and get to know them. As an elder spends time with people, he needs to be observant regarding where the person is at with the Lord. An overseer needs to see (the word comes from a word meaning "watchman")! Does this person know Christ as Savior and Lord? Is there evidence that he is walking with the Lord? Did that sarcastic remark toward his wife reflect a need in his marriage? Did the way he snapped at his kids reveal a problem with anger? You can't care for people spiritually and help them to grow in Christ if you don't make the effort to observe them and know where they're at. Caring relationships are the basis for influencing people for Christ.
2) Shepherding the flock involves feeding God's people from His Word.
Again, not every elder is devoted to preaching and teaching (1 Tim. 5:17), but every elder must be able to teach so that he can help people deal with their problems and grow in their faith. God's flock today is scattering into worldly areas such as psychology for answers to life's problems because the shepherds have not shown them the sufficiency of Scripture for all of life and godliness. A question that I have repeatedly asked my Christian psychologist friends is, "Can you name a single emotional, relational, or spiritual problem where the Bible lacks an answer that psychology provides?" I have yet to get a substantial answer to that question!
3) Shepherding the flock involves guarding God's people from spiritual wolves.
I will cover this more next week (20:29-31), and so I only mention it in passing. Shepherds need the biblical discernment to spot wolves and the courage to ward them away from the flock.
Thus the mandate for paying close attention to the flock is the fact that the Holy Spirit appointed a man as elder. The model for paying close attention to the flock is that of shepherd.
C. The motivation for paying close attention to the flock is to remember the price that God paid for it.
He purchased it with "His own blood" (NASB). The phrase is theologically difficult (how can God, who is spirit, have blood?), which has led to variant readings. The Greek phrase can be translated, "with the blood of His own," which is a term of endearment to near relations (Bruce, ibid.). Notice that all three members of the Trinity are mentioned in this verse: The Father, who purchased the flock; the Son, who shed His blood to pay for their sins; and, the Holy Spirit, who appointed elders over the flock.
The main point is clear: Since God paid so great a price for the church, namely, the blood of His own Son, elders should value the church and give themselves to build it up and protect it. Since Christ loved the church and gave Himself for her, elders should also love the church and give themselves in service for her.
Conclusion
Paul is here handing the torch to these Ephesian elders. They were responsible to shepherd this flock of God. That is the main job description for church leaders. Churches are strong or weak, depending on the godliness of their leaders and the leaders' diligence to pay close attention to themselves and to all the flock. It is both an awesome privilege and a weighty responsibility to shepherd the church that God purchased with the blood of His own Son!
I hope that this message doesn't cause any of our leaders to resign and run for cover! With Paul, we all can exclaim, "Who is adequate for these things?" (2 Cor. 2:16). But Paul's charge should challenge us to be even more diligent and conscientious about the task entrusted to us, to shepherd God's flock. And, I hope that some men who are not yet elders will be challenged to aspire to the office of overseer, because, as Paul says, "it is a fine work he desires to do" (1 Tim. 3:1).
Discussion Questions
Realizing that no man perfectly meets the qualifications for elder (1 Tim. 3:1-7; Titus 1:5-9), how do we determine if a man is ready for the task?
Why is congregational church government, patterned after American democracy, not biblical? How important is the form of church government to the well-being of the church?
How do busy elders find the balance between shepherding the flock and taking care of church business and administration?
What is the difference (if any) between and elder being able to teach (1 Tim. 3:2) and having the gift of teaching?
Copyright, Steven J. Cole, 2001, All Rights Reserved.
Unless otherwise noted, all Scripture Quotations are from the New American Standard Bible, Updated Edition © The Lockman Foundation
Related Topics: Ecclesiology (The Church), Issues in Church Leadership/Ministry, Leadership, Pastors
Lesson 54: Guarding the Flock (Acts 20:29-32)
Related Media
We live in a day of tolerance where, even in the church, good feelings take priority over sound doctrine. If you dare to question whether someone's teaching is biblically orthodox, you will be labeled a "heresy hunter" or, even worse, a "fundamentalist," in the same league with the Ayatollah or the Taliban!
A few years ago, Christianity Today (5/16/94, pp. 38-40) ran a news article titled, "Hunting for Heresy." It told of how prominent evangelical authors, Karen Burton Mains and Tony Campolo, had separately come under fire because of some of their books. Even giving her a lot of grace, Mains was into some weird Jungian psychology and introspective nonsense that had nothing to do with biblical Christianity. Campolo caught flak because of urging the church to overcome its "homophobia" and to "work to stop discrimination that denies homosexuals their civil rights." He also said that many Christian homosexuals had been born with that orientation. And critics found problems with his views "on the environment and the sacredness of animals."
In spite of the fact that both Mains' and Campolo's writings, at the very least, called for biblical critique, the flavor of the news article was that those criticizing them were a handful of self-appointed judges, carrying on a witch-hunt. The implication was that we are not acting with the love of Christ if we call into question teaching from a professing evangelical that may be false.
But on the contrary, as Charles Simeon said, "To warn men of their danger is the kindest office of love" (Expository Outlines of the Whole Bible [Zondervan], 14:520). If false teachers are like savage wolves that do not spare the flock (20:29), then we certainly are not loving God's people if we fail to warn them about specific false teachers or teaching that may destroy their souls. Just as our President has called our nation to be on a high state of alert against terrorist attacks during this holiday season, so Paul calls these Ephesian elders to be on the alert against the dangers of false teachers. And, he gives the antidote to false teaching, namely, to stay centered on God and the word of His grace. Thus a major responsibility of elders is to guard the flock of God in these two ways:
Elders must guard the flock by tenderly warning against false teachers, and by staying centered on God and the word of His grace.
1. Elders must guard the flock by tenderly warning against false teachers (20:29-31).
To do this task well requires at least four things of elders:
A. To warn against false teachers, elders must be doctrinally knowledgeable.
To spot a false teacher, an elder must know what constitutes sound doctrine and what goes outside permissible limits. He must know which truths are essential to the Christian faith, and which issues allow room for disagreement among true believers. To do this, an elder needs to have some knowledge of the great doctrinal controversies that have been debated and resolved through church councils down through the centuries.
There are some core doctrines, where there can be no room for tolerance. These include the inspiration and authority of the Bible; the Triune nature of God; the person and work of Christ, including His absolute deity, His sinless humanity, His substitutionary death on the cross, His bodily resurrection, ascension, and second coming; and, the gospel, that we are saved by grace alone through faith alone in Christ alone. We cannot give an inch on these truths, or we compromise the Christian faith.
Other areas of doctrine are important, in that they affect the spiritual health of believers, but not essential for salvation. These would include a person's view of God's sovereign grace in salvation; baptism; Bible prophecy; and, the charismatic gifts of the Spirit. These doctrines are worth debating, but we should not label those who disagree with us as heretics or false teachers, unless they insist on dangerously unbiblical views in these areas.
For example, to hold to infant baptism is not heresy (although I disagree with that view). But if a person teaches that baptism is necessary for salvation, he has crossed into the realm of heresy. A person can be premillennial, post-millennial, or amillennial without being heretical. But I know a man who teaches that Jesus has already returned (in A.D. 70), and thus there is no future return of Christ. As I understand it, he is promoting heresy. Some of the "word-faith" teachers, who teach that God must obey our commands, are clearly heretical. But the point is, elders must have a handle on biblical and theological issues so that they can spot such false teachers and warn the flock of the dangers.
B. To warn against false teachers, elders must be alert to the insidious connection between heresy and sin.
Paul alludes to the sinfulness of the heretics by calling them "savage wolves" that will not spare the flock. They will speak perverse things, twisting verses out of context or taking something that is true and stretching it to an unbiblical extreme. Behind their false teaching is a selfish motive, to draw away the disciples after them. They want to gain a following for themselves, not for Christ. Thus pride is at the root of almost all heresy. The false teacher has not humbled his heart before the majesty of God.
John Calvin points this out in his comments on verse 30 (Calvin's Commentaries [Baker], Acts, 2:258-259). He says that almost all corruptions of doctrine flow from pride and selfish ambition. The pure and sincere handling of Scripture leads to Jesus Christ alone having the preeminence. But false teachers are invariably "addicted to themselves," and thus study to advance their own glory, thereby robbing Christ of His rightful glory. In 1 Timothy 1:19, Paul refers to two heretics in Ephesus, Hymenaeus and Alexander, who had rejected faith and a good conscience and thus had suffered shipwreck in regard to the faith. In his commentary on this text (p. 46), Calvin observes, "All the errors that have existed in the Christian Church from the beginning, proceeded from this source, that in some persons, ambition, and in others, covetousness, extinguished the true fear of God. A bad conscience is, therefore, the mother of all heresies …"
We do not know whether or not Hymenaeus and Alexander were amongst the elders that Paul is addressing in our text. But he warns these elders that the danger of heresy does not just come from outside the church. Even from among themselves, men would arise, speaking perverse things, and drawing away the disciples after them. Paul is not just warning the ignorant or untaught. He is warning men that he has personally admonished and taught for three years. This means that if we think that we are not vulnerable to the danger of false teaching, we are most vulnerable, because we do not understand the perversity of our own hearts!
Being a wolf is a matter of the heart, not of outward appearance. That's why Jesus warned about wolves that come in sheep's clothing (Matt. 7:15). It takes a fair amount of discernment for a sheep to recognize that this isn't another sheep; it's a wolf! Paul calls them "angels of light," disguised as "servants of righteousness." But then he adds, "whose end will be according to their deeds" (2 Cor. 11:14-15). Their evil deeds expose them for what they really are, false teachers, wolves in sheep's clothing, who are out for personal glory and gain, not for the glory of Christ.
In his book, The Cruelty of Heresy ([Morehouse Publishing, 1994], p. 17, italics his), C. FitsSimons Allison writes, "We are susceptible to heretical teachings because, in one form or another, they nurture and reflect the way we would have it be rather than the way God has provided, which is infinitely better for us." For false teachers, the motive may be to gain a following in order to further their own love of self. But for those that follow them, the motive may be that they do not like what the Bible teaches about God or about sin. Perhaps they want an excuse to indulge in their favorite sin. So they reject sound doctrine and embrace teaching that allows them to continue in their sin. For example, to justify immorality, a person must reject the notion of a holy God who will judge all sin. So he invents a "God of love," who would not judge anyone. But he does so to his own ultimate destruction (1 Cor. 6:9-10).
Thus elders must first of all be on guard for themselves (20:28), that their hearts are not in rebellion against God, that they are not being seduced by pride or self-love to seek a following. And then they must be on guard for the flock. False teachers and those that follow them invariably are people who have not judged their own pride, greed, ambition, or lust.
C. To warn against false teachers, elders must keep in mind the destructive results of false teaching.
False teachers do not spare the flock. What people believe has consequences. The picture is that of a wounded, devastated flock, with many of the sheep killed, as the wolves rapaciously feed on them. Usually, wolves go after the lambs or the already wounded, especially those that may be straying from the flock. Perhaps a person makes a profession of faith and begins to come to the church. But then someone wrongs him or he goes through a difficult trial, and he does not understand how to submit to God's purpose in the trial. He begins to distance himself from the fellowship, nursing his bitterness toward God and toward the church. He is a target for savage wolves! It is in the context of enduring trials that Peter warns that Satan is like a lion, seeking someone to devour (1 Pet. 5:8-9).
In his book, A Shepherd Looks at Psalm 23 ([Zondervan, 1970], p. 37), Phillip Keller says that he has heard of two dogs that killed 292 sheep in a single night of unbridled slaughter. One morning at dawn, he found nine of his choicest ewes, all soon to lamb, lying dead after a cougar had attacked the flock in the night. From then on, he slept with a loaded rifle and flashlight near his bed. At the least sound, he would leap from bed and dash out into the night to protect his sheep. That is a picture of the job of godly elders. Because the flock is precious to God, since He purchased it with the blood of His own Son (20:28), elders must guard it from spiritual wolves that would destroy and wound the flock, especially the lambs. Allison's title is true: Heresy is cruel!
D. To warn against false teachers, elders must clothe their warnings in love.
Paul points these elders to his own example of faithfully admonishing them with tears during the time he was with them. "Admonish" is a word that points to correction. Paul had the courage to point out to these men where they were wrong, and to point them toward a more thorough submission to Jesus Christ. But he admonished them with tears, showing his compassion and concern for these men. Paul does not mean that he was always literally weeping, "but that his whole ministry was something more than a cold and heartless exhibition of the truth, being warmed and animated by the tenderest affection towards them, and a heartfelt desire for their salvation" (J. A. Alexander, Commentary on the Acts of the Apostles [Klock & Klock], p. 715).
I read about a church that had dismissed the pastor and gotten a new one. Someone asked a member why they had gotten rid of the old one. "Because he kept telling the people that they were going to hell." The questioner asked, "What does the new pastor say?" "Oh, he keeps telling them that they're going to hell, too." "Well, what's the difference?" "The difference is that when the first one said it, he sounded as if he was glad about it. But when the second one says it, you know that it is breaking his heart."
I think that that may have been the problem in the Christianity Today article that I mentioned earlier, although the author never stated it. The critics were probably right in what they were criticizing, but wrong in the spirit of how they did it. In fact, in a subsequent issue, Karen Mains has a letter to the editor in which she commends the Christlike grace that Dr. Joe Stowell of Moody Bible Institute had extended to her during her season of criticism (7/18/94, p. 10). I hope that Dr. Stowell did not gloss over the errors that Mains was promoting, but that he offered his correction with grace and compassion, recognizing that he, too, is a fellow sinner who may at some time need correction.
Thus a major task of elders is to guard the flock by tenderly warning against false teachers and their teaching. But if all they do is warn against false teaching, they will be out of balance. They also need the positive focus of God and His grace:
2. Elders must guard the flock by staying centered on God and His word of grace (20:32).
In taking leave of these men, Paul commends them to God and the word of His grace, which is able to build them up and to give them the inheritance among all those who are sanctified. God and His word of grace will keep the elders from falling into false teaching. By implication, as they keep the flock focused on God and His word of grace, the flock will be kept sound in the faith.
A. Elders guard the flock by staying centered on God Himself.
As Allison states, "Faithfulness to correct doctrine and loyalty to the creeds is not the same thing as trust in the God whom the creeds describe" (ibid., p. 65). We learn that about 30 years later, the church at Ephesus actually fell into the trap of dead orthodoxy. In Revelation 2:2-4, the Lord Jesus indicts the church:
"I know your deeds and your toil and perseverance, and that you cannot tolerate evil men, and you put to the test those who call themselves apostles, and they are not, and you found them to be false; and you have perseverance and have endured for My name's sake, and have not grown weary. But I have this against you, that you have left your first love."
It is possible to be theologically correct and to be diligent to reprove false teachers and to guard the flock from error, but at the same time to lose our first, heartfelt love for the Lord Jesus! The point of studying theology is not to be able to set everyone straight with correct doctrine. The point is to encounter the living God who has revealed Himself in His Word, and to have our hearts properly humbled before His majesty.
In his introduction to Calvin's Institutes ([Westminster Press], p. lii) editor John McNeill cites A. Mitchell Hunter (The Teaching of John Calvin), who says of Calvin, "Piety was the keynote of his character. He was a God-possessed soul. Theology was no concern to him as a study in itself; he devoted himself to it as a framework for the support of all that religion meant to him." McNeill goes on to say that "in Calvin's pages we are everywhere confronting God" (ibid.). He cites Calvin's commentary on John, where he writes, "The Scriptures are to be read with the purpose of finding Christ there" (p. lvi).
Thus every elder should study theology so that he can know God in a deeper way. We must read and study all of God's Word so that we do not get a humanly warped view of God. If we only camp on our favorite passages, we can get out of balance. God is loving, but He is also fearfully holy and just. He is absolutely sovereign, and yet He holds us accountable for our choices. He can use evil to accomplish His sovereign will, and yet He Himself is separate from all evil. He dwells in unapproachable light, and yet He invites us to draw near to His throne through the blood of Christ to receive grace for our needs. Stay centered on God Himself as revealed in His Word and you will not fall into false doctrine.
B. Elders guard the flock by staying centered on God's word of grace.
By "the word of His grace," Paul is referring first to the gospel, but then beyond to the whole of the written Word of God. That Word is a word of grace to every sinner. It begins with the story of Adam and Eve in the garden, and how they sinned and plunged the entire human race into sin, under God's righteous judgment. But even in that story, there is the word of grace, that from the woman's seed, one would come who would bruise the serpent's head. The narrative goes on to tell of God's gracious promise to Abraham, that from his seed, one would come who would bless all the nations of the earth. As the New Testament makes clear, Jesus Christ is that seed of Abraham. God sent His own Son to bear the just penalty that we all deserved for our sin. His sacrificial death is freely applied to every sinner who trusts in Him, apart from any merit or works. Thus the main message of the Bible is a word of God's grace.
Most doctrinal errors stem from a misunderstanding or a deliberate perversion of God's free grace. The Roman Catholic Church denies God's grace by mingling it with human works as necessary for justification. Legalism, the attempt either to justify or to sanctify oneself by works, is a perpetual error that seeps into the church (Galatians and Romans were written to confront this). Any system of righteousness through human effort or works glorifies man and feeds human pride. Thus Satan is always injecting such false teaching into the church.
But the doctrine of God's free grace glorifies Him alone and robs us of any ground for boasting (1 Cor. 1:26-31). Thus elders must understand, personally live by, and constantly teach God's word of grace.
That word is able to build up the saints (20:32), to strengthen them spiritually so that they can resist the schemes of the devil. It also can give them the inheritance among all those who are sanctified. The inheritance refers to the future fulfillment of all of God's promises of salvation to those that believe in Christ. It is only those who are sanctified, or holy, both in their standing before God (Gal. 3:18) and in their daily walk (Gal. 5:21; Eph. 5:5), who have an inheritance in God's kingdom. Thus elders must guard themselves first, to make sure that they are living daily by God's sanctifying grace. And, then they must guard the flock by leading all that profess to know Christ into a daily walk where they experience His sanctifying grace.
Conclusion
Many in our day say that doctrine is not important or, even worse, that it is harmful. Experience is what we seek. But experience that is not based on sound doctrine is not godly experience.
Years ago, a seminary professor told his class at the beginning of the semester that they would work together on one major project during that semester. They would move systematically through the New Testament to categorize every area of truth and determine how many times each area is addressed. Their goal was to find what one thing is emphasized more than any other in the New Testament. When they completed the project, they were amazed to see that warning against false doctrine is emphasized more than any other thing, even more than love, unity, and experience (Renald Showers, in "Israel My Glory," [April/May, 1995], pp. 24-25). Apparently God thinks that it matters greatly what you believe!
Charles Spurgeon, in the heat of the "Down-grade" controversy, when liberal theology was being tolerated by the Baptist Union, wrote, "Those who do away with Christian doctrine are, whether they are aware of it or not, the worst enemies of Christian living. The godliness of Puritanism will not long survive the sound doctrine of Puritanism. The coals of orthodoxy are necessary to the fire of piety" (cited by David Kingdon, in A Marvelous Ministry [Soli Deo Gloria], p. 128). The author who cites him goes on to point out how Spurgeon realized that a decline in vital godliness would result from a departure from the doctrines of the depravity of the sinner, the atoning sacrifice of Christ, the absolute necessity of regeneration and the sanctifying work of the Holy Spirit.
So elders (I'm preaching to myself here), guard yourself first, and then guard the flock by tenderly warning against false teachers and by staying centered on God and the word of His grace!
Discussion Questions
How can we know which doctrines are worth fighting about and which ones we can be tolerant of different views?
Someone says, "They will know that we are Christians by our love, not by our doctrinal correctness." Your response?
A man once told me that if I claimed to be right on a doctrinal matter, I was being proud and judgmental of those who did not agree, and thus was in sin. How would you answer him?
Many err by thinking that God's grace means permission to be sloppy about our sin. What does His grace mean and why does it not lead to sloppy living (see Romans 6; Titus 2:11-15).
Copyright, Steven J. Cole, 2001, All Rights Reserved.
Unless otherwise noted, all Scripture Quotations are from the New American Standard Bible, Updated Edition © The Lockman Foundation
Related Topics: Bibliology (The Written Word), False Teachers, Grace, Issues in Church Leadership/Ministry, Leadership, Pastors, Scripture Twisting
Lesson 55: Why Givers are Blessed (Acts 20:33-38)
Related Media
Early one morning years ago an American serviceman was making his way back to the barracks in London. He saw a little boy with his nose pressed to the window of a bakery, staring in silence. The serviceman's heart went out to the little boy, probably an orphan. "Son, would you like some of those?"
"Oh, yeah, I would!"
The serviceman stepped inside and bought a dozen. He took the bag outside to the boy and said, "Here you are."
As he turned to walk away, he felt a tug on his coat. He heard the child ask quietly, "Mister, are you God?"
When we give, we act as God does. "God so loved the world, that He gave His only begotten Son …" (John 3:16). As God's people, we should be givers, not only at the Christmas season, but as a way of life.
In his final address to the Ephesian elders, Paul reminds them one more time of his own example when he had been with them. His example of being free from greed and of working to provide for his own needs and even for the needs of his co-workers, demonstrated before them how they, too, should shepherd God's flock. More than his own example, though, Paul told them to remember the words of the Lord Jesus, that He Himself said, "It is more blessed to give than to receive." Then Luke records the emotional farewell between Paul and these men who thought that they would never see his face again.
Jesus' words here are not contained anywhere else in Scripture. Apparently they were part of the oral tradition handed down from those who had been with Jesus during His earthly ministry. As John (21:25) mentions, if everything that Jesus did was written down in detail, even the whole world couldn't contain the books. We may wish sometimes that we had more of Jesus' sayings, but what we are given are probably convicting enough for us to work on for a lifetime! That is certainly true of His words here. By our fallen nature, we all are takers, not givers. But by God's sanctifying grace, He wants us all to grow to be givers. As we do, not only will others be blessed, but so will we!
But, why are givers more blessed than those who receive? I remember as a boy when my mother would quote this verse to me at Christmas time, thinking, "Well, then I'll let someone else get blessed by giving to me!" I wanted to be on the receiving end! Our text explicitly reveals three reasons that givers are more blessed; a fourth reason is implicit in Jesus' statement and taught explicitly in other Scriptures:
Givers are blessed because they are freed from greed, they are being conformed to Jesus, they have enduring relationships with others, and they will reap eternal rewards.
1. Givers are blessed because they are freed from the destructive sin of greed (20:33-35a).
Perhaps Paul is contrasting himself with the false teachers that he has just warned them about, wolves who come in to feed on the flock, rather than to feed the flock. Throughout the Bible, false teachers are denounced for being greedy and covetous (Isa. 56:11; Jer. 6:13; 8:10; Luke 16:14; 1 Tim. 6:5; Titus 1:11; 2 Pet. 2:3, 14, 15; Jude 16). But Paul's example shows us that …
A. Elders are to set the example of being free from greed.
As Paul himself argued (1 Cor. 9:1-18; 1 Tim. 5:17-18), those who labor in the gospel are worthy of being supported by the gospel. But there is a huge difference between a man being supported by the gospel and a man who is in the ministry to get rich by taking advantage of others. One requirement for elders is that they be "free from the love of money" (1 Tim. 3:3). Both elders and deacons must not be "fond of sordid gain" (Titus 1:7; 1 Pet. 5:2; 1 Tim. 3:8). If a man is trying to fleece the flock, it erodes trust and undercuts the basis for any lasting spiritual ministry.
The prophet Micah (3:11) denounced Jerusalem's leaders that pronounced judgment for a bribe, her priests that instructed for a price, and her prophets that divined for money. In the world, giving counsel for a hefty fee is standard practice. Unfortunately, the Christian world has imitated the secular world in this. But the Lord's servants should offer counsel or other ministry freely, trusting God that if people are ministered unto, they will reciprocate by helping to meet the needs of the one who has ministered to them. There is nothing wrong with charging for a product, such as a book or CD, where there are obvious costs in production and marketing. But even there, the focus of many Christians seems to be on making huge profits, not on ministry to the Lord's people.
Many years ago, I was shocked when I tried to line up a speaker for a men's retreat at our church in California. I tried a nearby seminary and the secretary told me up front, "Dr. So-and-So's fee is so much for a weekend retreat." I could not find even one speaker who would come without agreeing on a fee, and most of them were high amounts! I finally settled on one of the cheaper speakers, but I was grieved by the monetary focus. Why not come and minister and trust God to provide? The biblical principle is that we should offer ministry freely, and those who are ministered to should meet the needs of the one who is ministering (Gal. 6:6). Elders must set the example by being free from greed.
B. Greed is a sin that destroys the greedy person.
The Bible ranks greed or covetousness alongside immorality and idolatry, warning that "because of these things the wrath of God comes upon the sons of disobedience" (Eph. 5:5-6; Col. 3:5-6; see also Mark 7:21-23; 1 Cor. 5:10). Paul said that those who desire to get rich get snared by many foolish and harmful desires that plunge men into ruin and destruction (1 Tim. 6:9).
A Nigerian folk tale illustrates the destructive nature of greed. Three friends were on a journey when they found a bag full of money. They were very happy with their good fortune. They were hungry, so they sent the youngest man into a nearby town to buy food. After he left, one of the men persuaded the other that they should kill the younger man when he returned so that they would only have to divide the treasure two ways.
Meanwhile, the youngest man had bought the food and started back when he got the idea, "If I could kill these two men, the money would all be mine." So he returned to town, bought some poison, and put it in the food. "I will tell them that I have already eaten and am not hungry now. They will eat and die, and the money will all be mine," he schemed.
He no sooner arrived back with the other men than they beat him to death. Then they sat down to eat their lunch, but before they could finish, they became ill and died from the poison. And so because of greed, all three men died without enjoying any of their newfound treasure.
Greed is always easy to recognize in others: They won't share what they have with me! But it's not so easy to spot it in ourselves. Charles Simeon, in a sermon on Luke 12:15 (Expository Outlines on the Whole Bible [Zondervan], 12:468-471), developed three criteria to judge whether we are under the influence of greed. He said that we should examine the manner in which we seek material things; the degree to which we enjoy them; and, the manner in which we mourn or are anxious when we lose them. Givers are blessed because they are freed from this sin that brings both temporal and eternal destruction.
C. The solution to overcoming greed is to work to provide for your own needs and to give to provide for the legitimate needs of others.
In Ephesians 4:28, Paul wrote, "He who steals must steal no longer; but rather he must labor, performing with his own hands what is good, so that he will have something to share with the one who has need." When he was in Ephesus, Paul had been an example both of hard work and generosity. He had made tents to meet his own needs, and from any surplus, he had helped support the men who worked with him in the gospel. Apparently he also had enough funds to help some in the church who were needy (20:35a).
Paul's example affirms the dignity of work, including physical labor. Some are like Maynard G. Krebs in the old Dobie Gillis TV show. Every time the word "work" was spoken, Maynard would jump backwards and shriek as if he had been contaminated by the plague, "Work!" Some think that work is a part of the curse. But Adam had work to do before the curse, and we will have work to do throughout eternity. The curse is the thorns and thistles that interfere with productive labor, not the labor itself.
All Christian men, except those who are physically or mentally incapable, are responsible to work in order to provide for their families' and their own needs. Women are primarily to be workers at home (Titus 2:5). Not to provide for one's family is to deny the faith and be worse than an unbeliever (1 Tim. 5:8, a fairly strong warning!). Paul says that if a man will not work, the church should not feed him (2 Thess. 3:10). There is no mandate to meet the needs of moochers or of irresponsible people who squander their money and don't have anything left to pay their basic bills. But we are to help those who are weak, that is, who are unable to work because of legitimate health needs or who need help because of unusual trials.
Giving to those in need is the drain plug for greed. If you think that greed is getting a foothold in your life, sit down and figure out what frivolous spending you can eliminate and give it to the Lord's work. Think about what material possessions are clogging your spiritual arteries, and give them to our church missions yard sale. Giving is more a matter of mindset than of amount. Paul was never wealthy, but he demonstrated a lifestyle of giving. It's a matter of disciplining yourself to resist impulse spending and to give off the top because it is your priority. Givers are blessed because they are freed from the destructive sin of greed.
2. Givers are blessed because they are being conformed to the image of the Lord Jesus (20:35b).
As I said, we have no record of Jesus saying these exact words, although there is no reason to doubt that He did so. But we do have record to show that these words are in complete harmony both with His teaching and His example.
For example, Jesus warned, "Beware, and be on your guard against every form of greed; for not even when one has an abundance does his life consist of his possessions" (Luke 12:15). The context for that comment was that a young man in the crowd called out, "Teacher, tell my brother to divide the family inheritance with me" (Luke 12:13). I would have thought that Jesus would have condemned this young man's greedy brother. But rather, He confronts the greed of the complainer and goes on to tell the parable of the rich man who decided to build bigger barns to hold all of his wealth. But God said, "You fool! This very night your soul is required of you; and now who will own what you have prepared?" (12:20).
Jesus also said, "Do not store up for yourselves treasures on earth, where moth and rust destroy, and where thieves break in and steal. But store up for yourselves treasures in heaven, where neither moth nor rust destroys, and where thieves do not break in or steal; for where your treasure is, there your heart will be also" (Matt. 6:19-21). You store up treasures in heaven by investing in God's kingdom here below.
Jesus Himself is the embodiment of giving, in that He left the splendor and glory of heaven to come to this earth, not as a mighty king, but as the lowly baby of the stable in Bethlehem. He came to give Himself as the sacrifice for our sins. Thus Paul could write, "For you know the grace of our Lord Jesus Christ, that though He was rich, yet for your sake He became poor, so that you through His poverty might become rich" (2 Cor. 8:9).
I want to make it clear that no amount of giving or self-sacrifice will get you into heaven. Before you can give anything that pleases God, you must first receive God's free gift of eternal life. You must come to God as a poor sinner, unable to pay the debt that you owe, and receive the forgiveness that He has provided freely for you, but at great cost to Himself. Jesus' death is the only satisfaction for our sins before the holy God. He offers this unspeakable gift to everyone who will receive it. Receiving God's salvation in Christ is the starting point for becoming a giver, because it is the starting point of being conformed in your character to the Lord Jesus. Thus if we are becoming givers, although we can never match what Jesus did or even think of paying Him back, we are being more conformed to His image, and we will be blessed.
3. Givers are blessed because they have deep and enduring relationships with others (20:36-38).
Paul had given himself and his material goods to see these men come to Christ and be built up in Christ. They knew that he loved them like no one else had ever loved them. And so when it came time for Paul to depart from them for what they thought would be the last time, they broke out in loud, uncontrollable sobs. They fell on his neck and repeatedly kissed him, as Middle Eastern men do to this day when greeting one another. The scene that Luke portrays here shows the deep mutual love between Paul and these men. If Paul had been stingy or greedy or had tried to rip them off, this scene would never have taken place.
Ask any person on his deathbed what means the most to him and he will not say, "All of the things that I have accumulated for myself! And my huge bank accounts really mean everything!" Invariably, he will say, "My family and friends that love me mean more than anything else to me right now." And Christians will say, "My hope in the Lord Jesus and His promise of eternal life means everything."
I once read that the late billionaire J. Paul Getty had pay phones installed in his mansion for his house guests to use, because he didn't want to pay for their long distance calls! Needless to say, those guests were not there because of the warm feelings that they had for J. Paul Getty! Stingy, greedy people cut themselves off from close relationships with others. Think of how greed has often divided family members from one another because they think that they are not getting their fair share of the inheritance of a departed "loved one," who was not very loved! Greed destroys close relationships, but givers know the joy of deep and enduring relationships with others.
Givers are invariably people of faith, because you have to trust in God to give away money that you easily could spend on yourself. People of faith are people of prayer, because it is through prayer that we receive from God's bountiful supply. So it was fitting that Paul knelt down with these men and prayed with them before he got on board the ship. He probably prayed that God would keep them from false teachers, that each man would be a godly example to the flock, and that through them the church would be built up and expand all over Asia. And he probably prayed that God would meet their needs according to His riches in glory in Christ Jesus (Phil. 4:19). These men grieved at the thought of never seeing Paul again, because they knew that this generous man loved them, and they loved him.
So givers are blessed because they are freed from the destructive sin of greed; they are being conformed to the image of Jesus Christ; and, they have deep and enduring relationships with others. But there is a fourth reason that givers are blessed. It is not explicit in our text, although it is implicit here and explicit elsewhere:
4. Givers are blessed because they will reap eternal rewards.
As I said, heaven is not the reward for being a giver. Heaven is God's free gift, based on Christ's giving Himself on the cross. But those who have received God's gift of eternal life will reap rewards in heaven in proportion to their stewardship of money in this life. Unlike our investments in this uncertain world, that can be lost in a market crash, our investments in heaven are secure from every source of loss. That's why Paul told Timothy:
Instruct those who are rich in this present world not to be conceited or to fix their hope on the uncertainty of riches, but on God, who richly supplies us with all things to enjoy. Instruct them to do good to be rich in good works, to be generous and ready to share, storing up for themselves the treasure of a good foundation for the future, so that they may take hold of that which is life indeed (1 Tim. 6:17-19).
How can you put a price on an investment that yields eternal dividends? If you give to further the Lord's work, you will someday be welcomed into eternal dwellings by many friends who are there because you gave (Luke 16:1-9).
Years ago, a lady was filling a box for missionaries in India. A child came to her door to give her a penny, all that the child had, to be used for the Lord. With this coin, the missionary bought a tract and put it into the box. Eventually, this gospel leaflet came into the hands of a Burmese chief, and God used it to bring him to salvation. The chief told the story of his conversion to his friends, and many of them believed in Christ and threw away their idols. They built a church there, sent out a missionary, and at least 1,500 natives were converted. All this, and probably more, resulted from a little girl's gift of one penny for Jesus ("Our Daily Bread," 12/70).
Conclusion
Almost everyone has heard of and loves O. Henry's short story, "The Gift of the Magi." He tells of a young couple who are very much in love, but very poor. One Christmas Eve, Della wanted to buy a present for her husband, Jim, but she did not have enough money. She wanted to buy him a platinum fob chain for his precious family heirloom pocket watch, the proudest possession he owned. In desperation, she decided to sell her own most proud possession, her long and beautiful hair. It brought in just enough, and she bought the watch fob. When she got home and looked in the mirror, she was shocked at her appearance. But she thought that it was worth it to get Jim this special present.
When Jim came home, he looked at Della and there was deep, silent shock in his eyes. "Jim, darling," she cried, "don't look at me that way. I had my hair cut off and sold it because I couldn't have lived through Christmas without buying you a present." Then Jim drew a package from his overcoat pocket. He handed it to Della to unwrap. Now it was her turn to be in shock, because inside she found a set of combs for her beautiful hair that she had long admired in a Broadway window. To buy them, Jim had sold his precious watch. Both of them had sacrificed the most precious possession out of love for the other.
Were they foolish? O. Henry concludes, "No, of all who give and receive gifts, such as they are the wisest. They are the Magi."
His story illustrates the joy and blessing of giving. God has given His own Son so that you might be saved from His judgment. If you have received His gift, He will bless you even more as you become a giver out of love for Jesus.
Discussion Questions
Greed seems to be a sin that few American Christians recognize or confess. How can we be on guard against greed?
How can we distinguish one who is truly weak, and thus deserving of our gifts, and one who is not living responsibly?
Sometimes giving creates unhealthy dependence in the recipient. How can we avoid this problem?
In a world of needs, how can we determine where God wants us to give and how much to give?
Copyright, Steven J. Cole, 2001, All Rights Reserved.
Unless otherwise noted, all Scripture Quotations are from the New American Standard Bible, Updated Edition © The Lockman Foundation
Related Topics: Christmas, Fellowship, Finance, Relationships, Rewards, Sanctification, Spiritual Life
Lesson 56: Discerning the Will of God (Acts 21:1-14)
Related Media
All Christians want to know God's will for their lives. We want to know His will concerning major decisions, such as the career that we should pursue, the person that we should marry, and the place where we should live. We need His guidance on dozens of other daily decisions affecting our money, our time, and our relationships. If you know Christ as Savior and Lord, you want to please Him in every aspect of life by making wise decisions in line with His will.
Much of God's will is revealed in the commands and principles of His Word. You don't need to pray for guidance in these areas. In fact, you are sinning if you pray about whether you should marry a nice non-Christian (they're always nice!)! God has already revealed His will on the matter, that you not be unequally yoked. You don't need to pray about whether to pursue a career as a drug dealer or thief. You don't need to pray about whether or not the person to whom you are already married is God's choice for your life partner. All of these and many other decisions are clearly spelled out in God's Word. We simply need to understand and obey the commands and principles that are revealed in His Word.
But what about the decision to marry girl A or girl B, when both girls love the Lord and they both would say yes to your proposal? (I never had that problem!) What about deciding your major in college? What about the decision to take job A in one city, or job B in another location? There are many such decisions where we need to know how to discern God's specific will.
Some depend heavily on subjective feelings or signs, to the point of falling into the ways of pagan divination (see Bruce Waltke, Finding the Will of God [Vision House]). For example, a girl was praying about where to go to college, when she came upon the Lord's words to Jacob, "Arise, go to Bethel." Since her denomination had a college of that name, she decided that God was telling her to go to Bethel College. I hope that once she got there she did not read Amos 4:4 which says, "Go to Bethel and sin"!
On the other side of the spectrum, and more seriously, Garry Friesen wrote Decision Making and the Will of God [Multnomah Press, 1980], in which he argues that God does not have a specific will for the details of each person's life. Rather, as long as a believer acts within the moral will of God and follows the principles of biblical wisdom, he is free to decide whatever he wants. Thus, if Sally and Jane are both dedicated single Christian women, Bob is free to marry whichever one he chooses, assuming that his pick goes along with the plan. Bob would be wasting his time to ask God to reveal His will, especially through some sign or inner impression. In effect, God would be in heaven shrugging His shoulders, saying, "They're both fine girls. Get wise counsel and do as you please."
Although Friesen levels some valid criticisms against what he calls the traditional view of finding God's will, I do not agree with his primary thesis. My main gripe is that if we don't need to seek God's guidance for our major (and some minor) decisions, then we really don't need to trust God in a practical, daily manner.
But, then, how do we discern God's will? The bad news (or good news, depending on how you look at it) is that there is no simple, mechanical formula in Scripture for discerning God's will in specific situations. If there were, we would probably just apply the formula without seeking God Himself. So the good news side of it is that God primarily guides us through our relationship with Him, as we grow to understand His Word and learn to walk daily by His Holy Spirit. But since even the best of us (including Paul) are fallen sinners, it is an imperfect and somewhat uncertain process at best. But even when we miss God's will due to our dim sight or sin, He is sovereign and gracious to overcome our mistakes.
The uncertainty of this process is revealed in the difference of opinion between godly scholars over whether Paul was right or wrong to go to Jerusalem. The Holy Spirit had repeatedly revealed to Paul that he would encounter "bonds and afflictions" if he went there (20:23). Some commentators, such as Donald Barnhouse, Ray Stedman, and James Boice, argue (in light of 21:4) that Paul was either deliberately sinning or making a foolish mistake to continue his journey in light of these warnings. Others (the majority of those that I read) argue that Paul was right and that those who pled with him not to go were wrong. But our text and the history of Paul in Acts reveal some principles on how to discern God's will:
We should walk so closely with God that we discern His guidance as we live in obedience to His Word, in dependence on His Holy Spirit.
With that as a brief summary, I want to work through seven principles for discerning God's will, some of which are in our text, and others which come from Paul's walk with God.
1. To discern the will of God, you must write God a blank check with your life.
It is futile to speculate about God's will for your life unless you are 100 percent committed to obeying it. God isn't a travel agent who arranges your itinerary and then asks, "What do you think?" You say, "I like the week in Hawaii, but I'd prefer not to go to that Muslim country as a missionary. Could you change that to a few years in Tahiti, please?" He is the Lord, and it is true that He loves you and has a wonderful plan for your life! But you must yield your entire life to Him, trusting that His will for you is good, acceptable, and perfect (Rom. 12:1-2).
Paul had long since done that, so that he could now say, "I am ready not only to be bound, but even to die at Jerusalem for the name of the Lord Jesus" (Acts 21:13). He did not consider his own life of any account as dear to himself, in order that he might finish his course, and the ministry which he had received from the Lord Jesus, to testify solemnly of the gospel of the grace of God (20:24).
Signing your life over to God may strike you as a bit scary. What if do it and He tells me to go to some jungle as a missionary, when I don't even enjoy camping out? What if you don't like the cold, and He sends you to the Eskimos? But, remember, He is your loving Father and He is all-knowing and all-wise. His purpose is to be glorified through you by blessing your life. So you've got to begin by trusting Him.
Granted, His path for you may include some severe and difficult trials. But you can trust that even in these, He will bless you in ways that you cannot imagine if you will trust Him and submit to Him. His Word promises, "No good thing does He withhold from those who walk uprightly" (Ps. 84:11b). No one, including those who have gone through severe trials or persecution, ever wrote God a blank check with his life and later regretted it. You must begin there if you want to discern His will.
2. To discern God's will, you must grow to know Him intimately through His Word and His Spirit.
Paul had known the Lord and walked closely with Him for years at this point. This fact, along with the fact that there is no hint in the text that Paul was being disobedient, leads me to disagree with those who say that Paul was sinning here. He may not have been wise (more on this in a moment). He may have been blinded to something that is obvious to us from our vantagepoint. (It's always easier to know God's will after the fact!) But Paul's aim for many years now had been to know Christ (Phil. 3:9-10). He knew God's Word well, and he walked by the Spirit, not by the flesh (Gal. 5:16). I think that as best as he knew how, Paul was seeking to obey the Lord by going to Jerusalem.
I have been married to Marla for almost 28 years now. On many matters I could tell you what she would want without asking her opinion. I know her will because I know her. In the same way, knowing God's will in a specific situation is very much bound up with knowing God Himself.
There are no shortcuts or easy formulas to knowing the Lord. It's a process that requires diligently seeking Him in His Word and in prayer over time. For some reason, God has designed life so that you have to make some of the biggest decisions (career, marriage partner) when you lack the maturity that you will gain later in life! That's one reason that you should seek the wise counsel of those who have followed the Lord for many years, perhaps including your parents! In the biblical culture, these decisions were pretty much made for you. If your father was a farmer, you became a farmer. Career choice wasn't much of an option. Your parents had a major role in choosing your marriage partner. It is only in recent times that young people have had pretty much free reign on these major life decisions! Wise and godly young people will seek wise and godly counsel.
If you are a relatively new believer, you should probably postpone a major life decision, such as marriage, until you get a basic grounding in God's Word. You need to know the godly character qualities to look for in a mate. And, you need to be the kind of person that the kind of person you want to marry would want to marry. In other words, you won't win the heart of a godly young woman unless you are a godly young man.
3. To discern the will of God, you must act on biblical principles, not human wisdom.
I'm expanding here on the previous point in order to say that at times, God's wisdom and His ways are opposed to man's wisdom and ways (Isa. 55:8-9). Not usually, but occasionally, God wants us to do something that defies human logic. For example, using our text, human wisdom and logic would say that we should avoid a course of action that will lead us into obvious trials. But sometimes God's will is to be glorified through His servants as they endure various trials, or even through their martyrdom.
The biblical principle that was governing Paul's trip to Jerusalem was his strong conviction that in the church there is no Jew or Greek, slave or free, but we are all one in Christ (Gal. 3:28). He was taking the collection that he had raised from the Gentile churches to the Jewish church as a demonstration of love and unity. Luke hardly mentions this collection (24:17), but from Paul's epistles we know that it was a big deal to him (Rom. 15:25-32; 2 Cor. 8 & 9). James Boice speculates that Luke's silence about it may reflect that he did not think that it was a very good idea (Acts [Zondervan], p. 358). But the principle behind it, the unity of the church, is an important biblical doctrine (John 17). Paul was willing to march into the face of danger on the basis of his commitment to this truth.
Also driving Paul was his heart's desire for the salvation of the Jews. This was such a compelling force that Paul says that he would be willing to be cut off from Christ for eternity if it meant the salvation of the Jews (Rom. 9:3)! Because of this compelling desire to see the Jews saved, Paul was willing to sacrifice his life, if need be.
We need to live on the basis of biblical principles, not human wisdom. We've had several similar situations here as a church. A man got so upset because we sent out some college mission teams to dangerous parts of the world, that he and his family left the church. We listened to his counsel and we even adopted some of his advised safety precautions. But as we sought to determine God's will, we felt that the Great Commission overrode his concerns. We sent the teams, recognizing the potential danger.
4. To discern the will of God, analyze your gifts, motives, and desires in light of God's sovereign purpose of being glorified among the nations.
It is possible to be committed to doing the Lord's will, but to be in the wrong place or position. For example, perhaps Paul could have sent some delegates with the collection, but stayed away himself, and still have accomplished his desire of unifying the church. A key question, which is not always easy to answer, is, "Where can I be the most effective in furthering God's kingdom in light of my gifts?" For example, I have a heart for missions, but I know that I am not an evangelist. I have asked myself, "Am I more effective to stay in America and instill in God's people a heart for missions or to go myself?" That is one reason I am near a university campus, because I want to see God raise up workers for the harvest in missions. If I ever feel that I can be more effective by going myself, I'm out of here!
Paul was admirable in his commitment to be willing to suffer and die for the name of Christ. But I can't help asking, should someone have asked him whether he would be more effective in prison or dead, or free to continue ministering as he was? It is not always God's will for us to be so committed that we ignore our own safety. On one occasion, David asked the Lord if the men from the town of Keilah would turn him over to King Saul, who sought his life (1 Samuel 23). When God said, "Yes, they will turn you over," David took off, and rightly so. It's a tough question to ask up front, because sometimes God can use us more while we are in prison or through martyrdom than if we spared our lives.
In addition to our gifts and how we can best be used, we need to examine our motives and desires. Am I truly seeking God's glory and not my own? Is my heart open before Him, with no secret sins? If I can honestly answer yes, then I should ask, "What are my desires? What do I enjoy doing?" If I am delighting in the Lord, then I can trust Him to give me the desires of my heart, either by fulfilling my current desires, or by changing those desires to be in line with His purpose (Ps. 37:4). He is a loving Father who delights in blessing His children by granting their holy desires. So if I am delighting in God, it is legitimate in seeking His will to ask, "What do I enjoy doing?" That may be where I should serve Him.
5. To discern the will of God, you must listen to and evaluate the counsel of godly believers.
Our text says that "through the Spirit" these believers told Paul not to set foot in Jerusalem (21:4). Those who think that Paul made a mistake or sinned argue that he disobeyed the directly commanded will of God. But most commentators say that "through the Spirit" means "that the Spirit's message was the occasion for the believers' concern rather than that their trying to dissuade Paul was directly inspired by the Spirit." So they see it not as Paul's rejecting God's command, but rather as God's revealing what would happen, with Paul's friends' natural desire to dissuade him (Richard Longenecker, Expositor's Bible Commentary [Zondervan] 9:516).
After Agabus' prophecy, even Luke and Paul's other traveling companions ("we," 21:12) joined in with the locals in trying to persuade Paul not to go to Jerusalem, and Paul's response shows that they were getting to him. But he was so strongly persuaded that God wanted him to go to Jerusalem that he resisted their appeals.
Which side was right? Frankly, it's difficult to say. Paul may have been a bit strong-headed in not listening to their counsel. He didn't need to go to Jerusalem to prove that he was willing to suffer and die for the Lord. If he had not gone, perhaps God would have used him even more powerfully than He did. On the other hand, Paul's resolve to stand alone, even against a group of godly men who were unified in pleading with him not to go, may show how firmly he believed that he was in the will of God. Several commentators point out numerous parallels between Jesus' firm resolve to go up to Jerusalem to the cross and Paul's resolve here. So it is difficult to decide which side was right. But the point is, we must evaluate the counsel that we receive, even if it comes from a unified group of godly friends.
Thus to discern God's will, you must write God a blank check with your life; you must know Him intimately through His Word and His Spirit; you must act on biblical principles, not human wisdom; you must analyze your gifts, motives, and desires in light of God's purpose for His glory; and, you must listen to and evaluate godly counsel.
6. To discern God's will, you must prayerfully evaluate the circumstances that God providentially brings into your life.
Again, this is not an easy thing to do! For example, God had now brought into Paul's life repeated warnings against going to Jerusalem from many different sources. Should he have taken these warnings as God saying, "Don't go?" Or, could they be to test his obedience to what he knew to be God's will? Perhaps the warnings were for the purpose of helping both the saints and Paul to stand firm after he was imprisoned, knowing it to be God's will in advance. Perhaps Paul's other circumstances, such as being able to get on ships that got him to Jerusalem in time for Pentecost, showed God's approval on his going there.
As you can see, the same set of circumstances can be interpreted in a number of ways, and so we need to be careful in how we evaluate them. It is generally not wise to "put out fleeces" to try to determine God's will. Sometimes closed doors do not mean "no," and sometimes open doors do not mean "yes." Finally,
7. After prayerfully following all of the above, in dependence on God, you must follow your own sound judgment, conscience, and convictions, submitting to the consequences.
Ultimately, each person must determine God's will for himself or herself. You can't blame others for the decisions that you make. In a marriage, the husband is accountable to God for family decisions, but any wise husband will only go against a godly wife's counsel after much deliberation and prayer. If Paul was right here, and his friends were wrong, it illustrates the point that sometimes bad counsel stems from loving motives. It was because these people loved Paul that they pled with him not to go, but he had to go against the wishes of his friends to do what he thought God wanted him to do.
Sometimes your parents may counsel you not to go to the mission field because they are genuinely concerned for your safety. That counsel could be from the Lord, but it might not be from the Lord. The will of God is not necessarily the most trouble-free route. You must work through the process in dependence on the Lord and then lovingly tell family and friends, "I'm doing what I believe God wants me to do. Please pray for me" (Rom. 15:30-31).
Conclusion
What if you make a mistake in discerning the will of God? If you come to realize that your mistake was due to stubbornness, self-will, or pride, confess it and ask God to overrule your mistake. I do not think that Paul sinned by going to Jerusalem, but I'm not sure whether or not he made the wisest decision. But God used Paul's prison years for His glory, and He can use our mistakes and even our rebellion if we submit to Him and seek to please Him.
Remember, the process begins when you trust Christ as Savior and when you write Him that blank check with your life, being willing to do whatever He calls you to do. If you've never repented of your sins and trusted in Christ, you are clearly out of the will of God, because He is not willing that any should perish, but desires for all to come to repentance (2 Pet. 3:9).
Discussion Questions
Is feeling a peace (or lack thereof) about something a valid factor in determining God's will? (See 2 Cor. 2:12-14.)
Do we need to seek God's will for relatively minor decisions (what we wear for the day, etc.)? Why/why not?
How can we know when to go against the counsel of godly people? What principles apply?
Why is putting out a fleece (or asking for a sign) not a good practice when seeking God's will?
Copyright, Steven J. Cole, 2001, All Rights Reserved.
Unless otherwise noted, all Scripture Quotations are from the New American Standard Bible, Updated Edition © The Lockman Foundation
Related Topics: Bibliology (The Written Word), Hamartiology (Sin), New Year's, Spiritual Life
Lesson 57: When a Godly Man Errs (Acts 21:15-40)
Related Media
Most of us are familiar with the term "armchair quarterback." An armchair quarterback sits in his comfortable chair, favorite beverage in hand, munching potato chips and watching the quarterback on TV as a herd of 300-pound giants rushes furiously towards him. The quarterback desperately throws the ball down field, but instead of connecting with his receiver, it gets intercepted. The armchair quarterback shakes his head and laments, "He never should have thrown that pass. His other receiver was wide open. He should have thrown to him."
It's easy to sit in your comfortable chair and give advice to the guy who is down on the field facing 300-pound gorillas. But it's an altogether different matter to be the guy down on the field, making split-second decisions under incredible pressure. It's easy in that situation to make mistakes. So we need to be careful about judging someone who made a mistake in the midst of such pressure.
I don't want to play armchair quarterback on the apostle Paul here today. It's easy to second-guess what he did. And yet I believe that he made a serious mistake in the story before us. Luke recorded it for our instruction and encouragement. We can all be instructed if we learn how prone we all are to make mistakes when we're under pressure, and thus to be on guard. We can be encouraged because if even the most godly of men, such as Paul, make mistakes, and yet God uses them mightily, perhaps there is hope for us all! God is not thwarted by our mistakes. Rather,
When a godly man errs, God will work it together for good according to His loving purpose.
We all err in our personal lives. Sometimes we err in discerning the will of God because, as we saw in our last study, it is at best an imperfect and tentative process. We err in our ministries, sometimes misjudging people or situations. We err in our marriages. All of us who are married can look back and think, "I wish that I had said this or done that in my marriage years ago. If I had, I wouldn't be having my current problems." We err in rearing our children. We have to raise them at a time when we have no experience raising children. By the time we have the experience, they're out of the nest! Every parent can look back and lament, "If only I had done some things differently!" We've all made financial errors that we wish we could undo. We've made major decisions that turned out to be major mistakes. Our text offers three lessons for us who are seeking to follow the Lord, when we err:
1. Even the most godly of men err.
Paul and his delegation from the Gentile churches arrived at Jerusalem, bearing the gift for the poor that had been collected from the Gentile churches. The next day, they met with James and the elders from the Jerusalem church. This James was the Lord's half-brother, author of the Epistle of James, who was obviously the main leader of the church. The apostles must have all been out on various missionary enterprises by this time. Luke himself was present at this meeting, and he mentions the warm welcome (21:17-18).
It is odd that Luke does not mention the presentation of the gift or the response of the Jerusalem leaders to the gift. Different theories have been proposed for why Luke omits what to Paul was so important. F. F. Bruce suggests that the Jews may have viewed Paul's gift as undermining or competing with the temple tax. Thus Luke did not report it so that it would not be used against Paul when his case was referred to the emperor (Paul, Apostle of the Heart Set Free [Eerdmans], pp. 296-297). I'm inclined to agree with James Boice, that Luke may not have shared Paul's enthusiasm toward this scheme (Acts [Zondervan], p. 358).
Paul proceeded to share with the Jerusalem church leaders what God had accomplished through his ministry among the Gentiles. Their response has always struck me as a bit odd. First, they glorify God; but in the next breath they tell Paul about the thousands of Jews who have believed and are zealots for the Law. These people have been told that Paul was teaching the Jews who lived among the Gentiles to forsake Moses and not to walk according to the Jewish customs. Then they propose their scheme, which obviously they had concocted beforehand. In my opinion, it is political posturing at best. To avoid a backlash from the Jewish faction of the church on account of the leaders' welcoming Paul and his Gentile converts and accepting their gift, they propose that Paul join these four men in their Jewish vow and sacrifice. Then it will look to everyone as if Paul himself keeps the Law.
It seems obvious that James and the elders were not concerned over the fact that these believing Jews were still zealous for the Law of Moses. Not only that, but the leaders themselves probably would have been uncomfortable with Paul's view that Jewish Christians are free from the ceremonial aspects of the Law (Bruce, Paul, p. 347). Their citation of the Jerusalem decrees (21:25) shows that they were still, after all of these years, hung up over the details of what believing Gentiles should and should not do on these matters. Their focus should have been on Christ as "the end of the law for righteousness to everyone who believes" (Rom. 10:4). But rather than seeing Paul's visit as an opportunity to teach the believing Jews these great truths and to clarify any misconceptions that they have about Paul's teaching, they are nervous about what they might think. So they propose this political scheme that will "spin" Paul in a different light. And, Paul submits to it!
I find it surprising that many commentators defend Paul's actions here. Maybe his aura is just too great to dare to suggest that he blew it. And, as I said, it is easy to play armchair quarterback by taking potshots at a man who was under a lot of pressure. We don't want to do that. But even so, I believe that Paul made a major mistake here. But before I tell you why, let me, in all fairness, state the arguments of those who think that he was right. (I'm combining here the arguments of Stanley Toussaint in The Bible Knowledge Commentary [Victor Books], p. 416; and, John MacArthur, Jr., Acts 13-28 [Moody Press], p. 254).
First, Paul himself had taken a Nazirite vow (Acts 18:18). Thus why is it wrong for him to participate in this ceremony? Second, Paul's participation did not compromise any biblical truth, but was a matter of Christian liberty. It fit in with his policy of becoming a Jew to the Jews, in order to win the Jews (1 Cor. 9:20). His offering animal sacrifices here did not deny the finished work of Christ, but were only memorials. Third, if Paul had made such a serious error, would not the Holy Spirit have made this clear in the text? Besides, Paul later states that he had not violated his own conscience (23:1; 24:16-18). Fourth, Paul's motives were pure. He was trying to unify the Jewish and Gentile Christians and be a witness to the unbelieving Jews. Fifth, the negative results of his actions do not prove that he made a mistake. Such a pragmatic approach denies that Paul's arrest had been prophesied before his arrival in Jerusalem (20:22-23; 21:4, 11).
In response, first, the text never hints at whether Paul had been right or wrong to take a Nazirite vow. It is, at the very least, a debatable matter that he was right to do so. Second, it is arguable that Paul's actions compromised or, at the very least, clouded some crucial biblical truths. Why should believers in Jesus Christ, whose blood cleanses us from all sin, go through a ritual of purification involving animal sacrifice under the priestly system that put the Savior to death? As the author of Hebrews argues, Christ is the sum of everything that the Jewish sacrificial system pointed forward to. Why go back to the old system when the veil in this very temple had been torn? It is one thing for Paul to set aside his freedom in Christ and to adopt some neutral Jewish customs that might be a hindrance to the gospel. But to participate in a Jewish sacrifice for purification at the temple was at the least to cause confusion on what Paul elsewhere plainly taught, that the decrees of the Law were removed by being nailed to the cross (Col. 2:11-14).
The third argument was that there is no indication in the text that Paul erred or sinned, and that he later states that he had always maintained a clear conscience. But in light of Paul's epistles, verse 20 should jar any sensitive reader of Scripture. Paul taught that the law is our tutor to lead us to Christ, so that we may be justified by faith. Thus the purpose of the tutor is done away with (Gal. 3:24-26). He taught that Christ is the end or fulfillment of the Law for righteousness to all who believe (Rom. 10:4). He exhorts the Galatians, "It was for freedom that Christ set us free; therefore keep standing firm and do not be subject again to a yoke of slavery." He goes on to tell them that "in Christ Jesus, neither circumcision nor uncircumcision means anything, but faith working through love" (Gal. 5:1, 6). How the sum of Paul's teaching about not being under the Law can be harmonized with a favorable view of being zealous for the ceremonial Law, is beyond me!
Regarding Paul's clear conscience, he does not mean that he had never sinned or made a mistake. Rather, he is defending his integrity, first before the Jewish Sanhedrin (Acts 23:1), and then before the Roman governor Felix (24:16). I would not agree with Donald Grey Barnhouse (Acts) that Paul deliberately sinned by going to Jerusalem and cooperating with this scheme. But I do contend that he made a major mistake, in spite of his sincere motives. To live with a clear conscience means that we confess our sins and acknowledge our mistakes, not that we live perfectly.
The fourth argument is that Paul's motives were pure. Granted, but sincerity and pure motives do not protect us from making major mistakes. Regarding the final argument, that the negative results are no basis for determining right or wrong, I agree. Sometimes we act in obedience and suffer terribly. Sometimes we disobey God and life seems to go well for a while. But the prophecies about Paul's imprisonment say nothing about whether the actions that led to that imprisonment were right or wrong. As James Boice argues (p. 364), the greatest proof that Paul was wrong was that God, who is sovereign over the details of our lives, intervened before Paul was able to offer the sacrifice in the temple and prevented him from doing it.
I see a parallel in the life of David, who was also a godly man who erred. On one occasion, after years of being hounded by Saul, David said, "I will perish one day by the hand of Saul" (1 Sam. 27:1). As a result of this thinking, which the text does not condemn, but which was clearly sinful unbelief in God's promise to David to sit on the throne, David went over to the Philistines. This wrongful alliance involved him in deception and murder. It culminated in his going into battle with the Philistines against the army of God under Saul and David's beloved friend, Jonathan! In His grace, God intervened and spared David from this terrible result. But clearly, David's wrong thinking and subsequent wrong behavior had led him to the brink of what would have been a disastrous compromise, even though the text of Scripture never says that he had done wrongly. I think that while Paul was not sinning here, but rather making a serious mistake, if God had let him go through with offering the sacrifice, it would have compromised the gospel.
How should Paul have responded to this scheme? He should have said to James and the elders, "Brothers, we need to have a long discussion." He should have found out exactly what they meant by their statement about being zealous for the Law. He should have used this as an opportunity to educate the Jerusalem leaders that in Christ we are not under the Law, but under grace. And, he should have warned them of the danger that they were in of falling into the racist views of the unbelieving Jews against the Gentiles. In their effort not to offend these Jews so as to reach them with the gospel, the leaders had allowed them to come into the church and yet hang onto their Jewish ceremonies and customs without showing them that Christ was the fulfillment of these things. They should have been in the process of educating these Jewish believers that in Christ, there is no Jew or Gentile (Gal. 3:28). They should have been pointing them toward taking the gospel to every tongue and tribe and nation, and that God is no respecter of a man's race (Acts 10:34-35).
Why didn't Paul confront these church leaders? Why did he quietly go along with their scheme? There were two primary reasons, and both of them are good motives. First, Paul ardently desired for there to be unity between the Jewish and Gentile Christians. He taught in Ephesians 2:14 that the dividing wall between them had been broken down in Christ. He was referring to a short wall in the temple that kept Gentiles out of the sacred place upon threat of death. Ironically, Paul was falsely accused of bringing a Gentile inside this wall, leading to the riot and his arrest (Acts 21:28). But Paul's strong desire for unity in the church pushed him over the line in accepting this compromising scheme, rather than confronting the truth issues that were at stake.
The second reason Paul went along with this scheme was his deep burden for the conversion of the Jews (Rom. 9:1-3). But in his effort not to offend the Jews and to become a Jew to reach the Jews, I believe that he created confusion over the main issue of the gospel, namely, the sufficiency of Christ's sacrifice for our sins.
It is never right to maintain peace and unity at the expense of compromising or confusing major truth. And it is never right to leave out the offensive aspects of the gospel for the sake of winning those who would be offended.
Let me give an example of each error. King Jehoshaphat was a godly leader of Judah who sincerely wanted to bring about an alliance with the separated northern kingdom. But to bring about this noble aim, he allied himself with the wicked northern king, Ahab. He married his son to Ahab and Jezebel's daughter, Athaliah. She later usurped the throne and almost succeeded in slaughtering the Davidic line of kings. It was an example of unity at the expense of holiness, and it had disastrous consequences.
In our day, we are being urged to set aside our differences and to come together with Roman Catholics on the matters where we agree, to demonstrate "our unity in Christ." But to do so will either result in compromising or seriously confusing major truth about the gospel. While unity is important, it must be based on the central truths of the gospel, or it is not true biblical unity.
Regarding the second error, of leaving out or tiptoeing around the offensive elements of the gospel in order to win people, it results in people coming into the church who are not truly saved. I think there are reasons to question whether these Jews who had believed and were zealous for the Law were truly converted. At best, they were very immature believers who desperately needed some straightforward teaching. If they had heard Paul preach as he does in Galatians, it would have separated the genuine believers from the false!
In our day, if in our attempt to reach Muslims, we tell them that we both worship the same God, and we are silent about the deity and lordship of Jesus Christ, we may succeed in getting them to "accept Christ." But if they can accept Christ and yet hang onto many of their Islamic beliefs, they have not believed the gospel! Or if in witnessing to a Roman Catholic, we do not make plain the difference between works-righteousness and the righteousness that is imputed through faith in Christ alone, we have not presented the gospel clearly. Any decision that comes out of such unclear witness is suspect at best.
So the first and major lesson of our text is that even the most godly of men can err, and so we must be on guard against making serious mistakes, especially when we're under pressure.
2. The errors we make always carry negative consequences.
This scheme did not produce the intended results, to say the least! As I already said, we cannot judge any actions by the results, but only by whether or not they line up with God's revealed truth. But when we do err, even if we do so with sincere and good motives, there will be negative consequences, either immediately or later.
Paul's error in going along with this scheme resulted in the Jewish leaders and church at large missing a vital lesson about law and grace. They missed a badly needed correction about their view of Gentiles. Rather than clearing up a problem, it only resulted in greater confusion and misunderstanding. Paul himself got beat up and almost killed. He spent almost the rest of his life in confinement because of this mistake. And seeing Paul in the temple going through these Jewish rituals did not soften the hearts of the Jewish unbelievers towards the gospel. So we should never just shrug off mistakes as if they do not matter. They do matter, and inevitably both we and others get hurt by our errors.
3. God is able to make our errors work together for good according to His loving purpose.
Even though Paul erred, God graciously spared his life and gave him the opportunity to preach to the mob that had just attacked him (22:1-21). As a result of his imprisonment, he was able to present the gospel to governors and rulers with whom he otherwise would have had no contact. He eventually got an all-expenses paid trip to Rome and was able to witness to many in Caesar's household. He had time to write his prison epistles, which are in our New Testament. All of these positive results illustrate the abundant grace of our God, who works all things together for good to those who love Him, who are called according to His purpose (Rom. 8:28).
Conclusion
Everyone makes mistakes. Some examples: In 1899, the director of the U.S. Patent Office stated, "Everything that can be invented has been invented." About the same time, Lord Kelvin, the President of the Royal Society, said, "Heavier than air flying machines are impossible." In 1905, President Grover Cleveland said, "Sensible and responsible women do not want to vote." In 1921, baseball great Tris Speaker said, "Babe Ruth made a big mistake when he gave up pitching." In 1923, the Nobel Prize winner in Physics stated, "There is no likelihood man can ever tap the power of the atom."
D. L. Moody said, "If you don't go to work for the Lord because you're afraid of making mistakes, you will probably make the greatest mistake of your life—that of doing nothing." He's right! We should get out of the armchair and into the game!
The point of this message is not to play armchair quarterback on Paul, but to get us all to play armchair quarterback on ourselves! We all should constantly be examining our lives to identify our sins and mistakes, including the mistake of not serving the Lord. When the Lord graciously opens our eyes to errors that we have made, we should learn from them and, if possible, try to correct them and ask forgiveness of those whom we have wronged. We should submit humbly to the trials that may be in our lives as a consequence of our mistakes and sins.
But, we should not despair that we have somehow thwarted God's plan for our lives. Without minimizing or excusing our mistakes, we should realize that in His grace, God works around and through our mistakes for His own glory. We should trust Him, move on in obedience to His will for our lives, and marvel that He can use bumbling sinners such as we are!
Discussion Questions
Do you agree that Paul erred by going along with this scheme? Why/why not?
What is the difference between a mistake and a sin? Where do motives fit in?
How can we discern which issues to compromise on and which issues require taking a stand even if it creates conflict? (Study the life of Jesus in this regard.)
Some professing Christians try to defend racism biblically. How would you refute them? How can our church practically show that God's mercy transcends racial boundaries?
Copyright, Steven J. Cole, 2002, All Rights Reserved.
Unless otherwise noted, all Scripture Quotations are from the New American Standard Bible, Updated Edition © The Lockman Foundation
Related Topics: Character of God, Failure, Temptation
Pages