A Journey of Faith: A Study of the Life of Moses
Related Media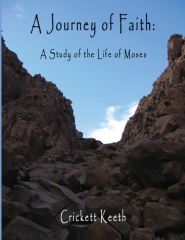 Moses' life began as a journey of faith - his parents' faith when they chose to trust God for the protection of their baby boy. His life continued as a life of faith as God led him step by step to carry out the purpose He had for Moses. My prayer as you study the life of Moses is that you would grow deeper in your own journey of faith, that you would be encouraged and be willing to let God work in and through you to carry out His purpose(s) for you.

Download the Student Workbook for this series by clicking on the "Download Word Doc" link in the upper right hand side.

Click here to purchase the printed version of the student workbook.
 
Related Topics: Character Study, Curriculum, Women