For those of you who are new to our translation effort I would encourage you to:
Hints and Tips
Did you know that you can use Google Translate as part of your process in translating? Google translator is a tool that can be used for translating documents quickly. As with any program, grammatical errors still occur, so please take the time to edit the document for grammatical and formatting errors before sending the translated copy for publishing. This is not a substitute for actual translation work. Go to http://translate.google.com/#, copy the article into the editor box, and then pick English as the first language. Next choose your language as the second language and click translate. Once the document has been cleaned up and properly formatted send the document back to us here.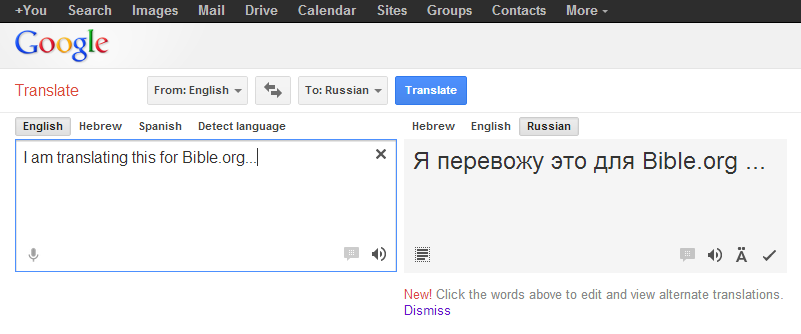 Awarding Faithfulness

After the initial rush of getting caught up and started last month we were blessed to award 3 new certificates and books this month. Thank you for your efforts, and we hope that you are enjoying your new resources.
If you have not received an award certificate and the appropriate ePub books for your past translation efforts be sure to contact us and enroll in this retroactive award program.
For details on our Award program see the post in our Translator's Group.
Special News
Our Bible.org fundraising campaign is in its last days (ending 10/31). A sponsor has offered to match all donations to Bible.org. For new donors the sponsor will match $2 for every $1 donated ($250 gift becomes $750). For repeat donors the sponsor will match $1 for $1 ($250 gift becomes $500). Any amount will be matched up to $500,000. For more information or to donate see our webpage.
Need help, have questions, or prefer to meet in real time?

I am available and would love to answer any questions you might have. We do have a Frequently Asked Questions section on our Group page, but you can always send me an email! I can also be available through Skype for a voice or chat conversation. Simply let me know through email that you would like to talk and we will get it worked out.
As you begin to get involved, be sure to check out the "Introductions" post in the group. There we can begin to get to know one another as we share this ministry together.
I look forward to hearing from you and seeing you in our translator's group!
Translations