Help
Here's a list of different servers/sections that make up the family of bible.org sites
These sites share the same login/password

This Site requires a separate user name/password login

These sites are completely open with no Log-in needed
Using www.bible.org
1. The Top Toolbar
The Top toolbar contains links to ll the sites within the Bible.org world. You can get to any of our sites from, any of our sites. All of our sites have this tool bar at the top.

Also if you click the expand button on the right you will find a list of most popular places to visit on our most popular sites.


We have taken the old LIst Articles By: drop down and made a new The Studies by: line so you do not have to use the drop down menu. (as on right)
This new Studies by line (see red arrow below) allows you to find any of our articles or studies by any author, date or any of the other items listed on this line. You can even find material by topic.


2. The Search Box

When you enter a search term you can either Search the Bible.org "Site" or you can search the NET "Bible"
3. Report a problem
Dont be shy. Did you see something that was not correct? Fail to find something where you thought it should be? Website give you an error or a sorry cant find what your looking for error?
On the bottom right side, right inside the big gray box at the bottom of the page you will see Report a Problem/Suggestion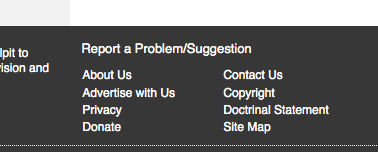 Dont be afraid to leave some detail in the report.
4. Viewing Greek and Hebrew in documents:
to see if you have the fonts needed to view greek and hebrew. Go to the NETBible study tool
Then Go to the Fonts link on the top bar you will see a table of fonts in the format as shown...

Compare the font symbols your computer produced in Column #2 with the font symbols in Column #3. If they are not identical you need to download the NET Bible symbols so your page display properly on Bible.org. (This is important!)
#1-Font Name
#2-Your machine produced these

#3-Picture of what the font should look like

If your fonts are not identical you need to download and install additional Fonts: