Bible Explorer Bible.org Library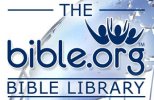 New! The Bible Library of extended resources. Using the popular Bible Explorer engine, bible.org has included 101 resources to enrich and inform your Bible study.
Includes the NET Bible with 60,632 translators' notes. Only $19.95.
24 Commentaries, 17 Bibles, 22 Works on Theology, 10 on HIstory and Culture, Study Helps, Devotionals and more.... Check it out.
Title

Author

Category

Exclusive

Greek New Testament - Westcott-Hort

Brooke Foss Westcott and Fenton John Anthony Hort

Bibles




Greek New Testament - Tischendorf

Constantin von Tischendorf

Bibles




Mace New Testament

Daniel Mace

Bibles




Greek New Testament - Scrivener 1894

Frederick H.A.Scrivener

Bibles




Montgomery New Testament

Helen Barrett Montgomery

Bibles




Darby's Translation

John Nelson Darby

Bibles




Wesley's New Testament

John Wesley

Bibles




Weymouth New Testament (WEY)

Richard Francis Weymouth

Bibles




Greek New Testament - Stephanus 1550

Robert Estienne

Bibles




Youngs Literal Translation (YLT)

Robert Young

Bibles




Bible in Basic English (BBE)

Samuel Henry Hooke

Bibles




Latin Vulgate

St. Jerome

Bibles




American Standard Version Bible (ASV)




Bibles




Centenary Translation of the NT




Bibles




GOD'S WORD Translation (GWT)




Bibles




King James Version Apocrypha




Bibles




The NET Bible




Bibles

Exclusive bible.org content

Bible History: Old Testament

Alfred Edersheim

Commentaries




The Holiest of All - An Exposition of the Epistle to the Hebrews

Andrew Murray

Commentaries




Hodge's Commentary on 1 Corinthians

Charles Hodge

Commentaries




Hodge's Commentary on 2 Corinthians

Charles Hodge

Commentaries




Hodge's Commentary on Ephesians

Charles Hodge

Commentaries




Hodge's Commentary on Romans

Charles Hodge

Commentaries




Bullinger's Commentary on Revelation

Ethelbert William Bullinger

Commentaries




Acts of the Apostles

John William McGarvey

Commentaries




Commentary on Matthew and Mark

John William McGarvey

Commentaries




Four-Fold Gospel

John William McGarvey

Commentaries




Commentary on Thessalonians, Corinthians, Galatians and Romans

John William McGarvey and Philip Y. Pendleton

Commentaries




The Apocalypse

Joseph Augustus Seiss

Commentaries




The Gospel in Leviticus

Joseph Augustus Seiss

Commentaries




Luther's Commentary on Galatians

Martin Luther

Commentaries




Exposition of the Epistle to the Romans

Robert Haldane

Commentaries




An Exposition of the Epistle of James

Thomas Manton

Commentaries




Romans Verse-by-Verse

William Reed Newell

Commentaries




Barnes' Notes on the New Testament

Albert Barnes

Commentaries - NT




The People's NT Commentary

Barton Warren Johnson

Commentaries - NT




Concise New Testament Survey

J. Hampton Keathley III

Commentaries - NT

Exclusive bible.org content

Matthew Henry's Concise Commentary

Matthew Henry

Commentaries - One Volume




Treasury of David

Charles Haddon Spurgeon

Commentaries - OT




Concise Old Testament Survey

J. Hampton Keathley III

Commentaries - OT

Exclusive bible.org content

Jamieson, Fausset and Brown Commentary

Robert Jamieson, A. R. Fausset and David Brown

Commentaries - OT/NT Set




The Adequacy of Scripture

Greg Herrick

devotional

Exclusive bible.org content

Waiting On God

Andrew Murray

Devotionals




Morning and Evening

Charles Haddon Spurgeon

Devotionals




Daily Light on the Daily Path

Samuel Bagster and his Family

Devotionals




Dictionary of Christian Biography and Literature

Henry Wace

Dictionaries and Encyclopedias

Easton's Illustrated Bible Dictionary

Matthew George Easton

Dictionaries and Encyclopedias

Hitchcock's Dictionary of Bible Names

Roswell Hitchcock

Dictionaries and Encyclopedias

Smith's Bible Dictionary

William Smith

Dictionaries and Encyclopedias

King James Version Dictionary




Dictionaries and Encyclopedias

History of the Jewish Nation

Alfred Edersheim

History and Culture




Life and Times of Jesus the Messiah

Alfred Edersheim

History and Culture




Prophecy and History in Relation to the Messiah

Alfred Edersheim

History and Culture




Sketches of Jewish Social Life

Alfred Edersheim

History and Culture




The Temple: Its Ministry and Services

Alfred Edersheim

History and Culture




Complete Works of Josephus

Flavius Josephus

History and Culture




The Life of Christ

Frederic W. Farrar

History and Culture




New Testament History

Harris Franklin Rall

History and Culture




Foxe's Book of Martyrs

John Foxe

History and Culture




The History of the Christian Church

Philip Schaff

History and Culture




Scenes and Incidents in the Life of the Apostle Paul

Albert Barnes

Lessons




Gospel Extracts

Charles Haddon Spurgeon

Literature - Christian Living




Secret Power

Dwight Lyman Moody

Literature - Christian Living




Sovereign Grace

Dwight Lyman Moody

Literature - Christian Living




Our Relationship with God: Experiencing the Future Now (Romans 5:1-5)

Greg Herrick

Literature - Christian Living

Exclusive bible.org content

ABCs of Christian Growth

J. Hampton Keathley III

Literature - Christian Living

Exclusive bible.org content

Preparing to Hear God's Word

J. Hampton Keathley III

Literature - Christian Living

Exclusive bible.org content

Confessions of St. Augustine

St. Augustine of Hippo

Literature - Christian Living




The Imitation of Christ

Thomas à Kempis

Literature - Christian Living




Training of the Twelve

Alexander B. Bruce

Literature - Leadership




Sermons on Gospel Themes

Charles Grandison Finney

Sermon Helps




How To Prepare Sermons and Gospel Addresses

William Evans

Sermon Helps




Anecdotes and Illustrations

Dwight Lyman Moody

Sermon Illustrations




Christ in Isaiah

Frederick Brotherton Meyer

Study Helps




An Advanced Scripture Memory Program

Greg Herrick

Study Helps

Exclusive bible.org content

Union and Communion

James Hudson Taylor

Study Helps




The Coming of the Christ

Bob Deffinbaugh

Theology

Exclusive bible.org content

What is a New Testament Church

Bob Deffinbaugh

Theology

Exclusive bible.org content

Grace An Exposition of God's Marvelous Gift

Dr. Lewis Sperry Chafer

Theology




He that is Spiritual

Dr. Lewis Sperry Chafer

Theology




The Kingdom in History and Prophecy

Dr. Lewis Sperry Chafer

Theology




Second Helvetic Confession

Heinrich Bullinger

Theology




Angelology - The Doctrine of Angels

J. Hampton Keathley III

Theology

Exclusive bible.org content

Angels, God's Ministering Spirits

J. Hampton Keathley III

Theology

Exclusive bible.org content

The Doctrine of Rewards

J. Hampton Keathley III

Theology

Exclusive bible.org content

Bibliology

J. Hampton Keathley III

Theology

Exclusive bible.org content

The Uniqueness of Jesus Christ

J. Hampton Keathley III

Theology

Exclusive bible.org content

One Another Commands of Scripture

J. Hampton Keathley III

Theology

Exclusive bible.org content

The Trinity (Triunity) of God

J. Hampton Keathley III

Theology

Exclusive bible.org content

Soteriology

J. Hampton Keathley III

Theology

Exclusive bible.org content

Institutes of the Christian Religion

John Calvin

Theology




The Doctrine of Sin

Lehman Strauss

Theology

Exclusive bible.org content

Luther's 95 Theses

Martin Luther

Theology




Luther's Larger and Smaller Catechism

Martin Luther

Theology




Survey of Bible Doctrines

Sid Litke

Theology

Exclusive bible.org content

The Didache




Theology




Westminster Confession of Faith (1646)




Theology




All of Grace

Charles Haddon Spurgeon

Theology - Apologetics




Around the Wicket Gate

Charles Haddon Spurgeon

Theology - Apologetics




New Topical Textbook

Ruben Archer Torrey

Topics




Strong's Concordance/ Greek and Hebrew Dictionary

Dr. James Strong

Word Studies



bible.org Bible Library Volume 2
| | | | |
| --- | --- | --- | --- |
| Title | Author | Category | Exclusive |
| Highlights in the Life and Ministry of Jesus | Bob Deffinbaugh | Commentaries - NT | Exclusive bible.org content |
| Studies in Revelation | J. Hampton Keathley III | Commentaries - NT | Exclusive bible.org content |
| Measure of a New Testament Church | Bob Deffinbaugh | Theology (Ecclesiology) | Exclusive bible.org content |
| Christian Basic Training | Charles Buntin | Literature - Christian Living | Exclusive bible.org content |
| Genesis: From Paradise to the Patriarchs | Bob Deffinbaugh | Commentaries - OT | Exclusive bible.org content |