Most Života (Bosnian tract)
Related Media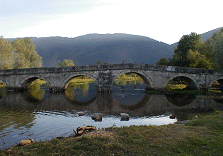 Jer je plata grijeha smrt, a milosni dar Božiji je život vječni u Kristu Isusu, Gospodinu našemu
Rimljanima 6.23 (u Bibliji)
Isus reče: … ko sluša moju riječ i vjeruje onome koji me posla, ima vječni život. On ne dolazi na sud, već je prešao iz smrti u život.
Ivan 5.24
… MOST ŽIVOTA
U početku bijaše Bog koji je sve stvorio pa i čovjeka (Post 1.27). Cilj mu je bilo zajedništvo sa čovjekom. Čovjek je uništio to zajedništvo okrenuvši se od Boga, svoga Stvoritelja. Na taj je način grijeh ušao u svijet kroz jednog čovjeka, a kroz grijeh smrt, koja je prešla na sve ljude. Svi su sagriješili, zbog toga postoji veliki ponor između nas i Boga.
PLATA je tvoja svakodnevna zarada. U ovom slučaju, zarada tvog grijeha je tvoja lična odvojenost od Boga.
GRIJEH je živjeti kao nezavisno biće, jer te Bog stvorio tako da budeš ovisan o njemu. "Ako tvrdimo da grijeha nemamo, sami sebe varamo, i u nama nema istine." (I Ivan 1.8) Nisi grešan jer griješiš, već griješiš jer si grešan "…jer su svi sagriješili i lišeni su Božije slave" (Rim 3.23)
SMRT – Biblija govori o smrti na tri načina: tjelesna, duhovna i vječna smrt. Ti nisi mrtav tjelesno, ali duhovno jesi, jer si odvojen od Boga. Posljedica duhovne smrti je vječna smrt.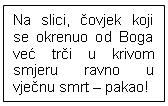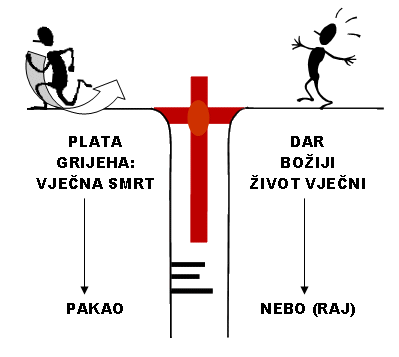 ALI … postoji "neko" koji ti omogućuje promjenu smjera u ŽIVOT VJEČNI!
DAR je suprotno od plate, "nešto" što je "neko" platio za tebe.
BOG, naš Nebeski Otac, stvorio nas je da bismo u ljubavi imali zajedništvo s njime. Bog, koji je svet, ne podnosi tvoj izbor grijeha umjesto svetosti. Grijeh mora biti plaćen. Uprkos svemu, On te besplatno daruje!
KROZ VJERU U ...
ISUS KRISTA. On je Sin Božiji, koji je umro za tvoje grijehe, bio pokopan i jer je On Bog, uskrsnuo treći dan kako bi ti mogao imati ŽIVOT VJEČNI.

Ti, koji si (bio) daleko, sada putem križa Isusa Krista imaš most iznad dubokog ponora. Želiš li duhovno živjeti? Dođi u zajedništvo s Bogom, priznaj svoj grijeh i upravo sada pozovi Isusa Krista za svog Spasitelja i Gospoda. Ako si to prihvatio vjerom prešao si iz smrti u ŽIVOT (Ivan 5.24).
Related Topics: Evangelism