Letters From Africa
Related Media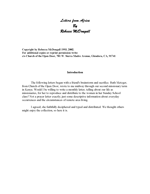 Our Life as Missionaries
An inside look at what it was like for the McDougall family to live in a remote tribe of Africa for fifteen years. Snapshots of drama, daily activity, distress, hilarity and victory; as well as insights into the passionate commitment and faith that drove and sustained them through it all.
To freely read the rest of this book Letters From Africa
click here to view the PDF.
Related Topics: Christian Life, Missions