Book 5: Work of the Holy Spirit (Stories 220-255)
View the stories by clicking the PDF link to the right: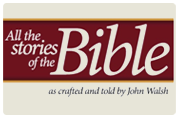 These stories basically surround the Book of Acts. It gives all the stories of Acts, but also includes the epistles written during the time frame of the Book of Acts. It ends with the last two chapters of Revelation.
List of stories

| | |
| --- | --- |
| 220. Coming of the Holy Spirit | 248. 2nd Letter to Thessalonians |
| 221. Crippled Man Healed | 239. Mob in Corinth |
| 222. Ananias & Sapphira | 240. Riot at Ephesus |
| 223. Apostles and Deacons | 241. 1st Letter to Corinthians (1) |
| 224. First Christian Martyr | 242. 1st Letter to Corinthians (2) |
| 225. Ministry of Philip | 243. 2nd Letter to Corinthians (1) |
| 226. Conversion of Saul | 244. 2nd Letter to Corinthians (2) |
| 227. Healing of Dorcas | 245. Letter to Romans (1) |
| 228. Cornelius, 1st Gentile | 246. Letter to Romans (2) |
| 229. Christians at Antioch | 247. Going to Jerusalem |
| 230. Jail Break | 248. Riot in Jerusalem |
| 231. First Missionary Journey | 249. Plot to Kill |
| 232. From Worship to Stoning | 250. Felix, Festus, & Agrippa |
| 233. Keeping Jewish Laws | 251. Storm at Sea |
| 234. Letter to the Galatians | 252. Shipwreck & Rome |
| 235. Singing in Jail | 253. Philemon |
| 236. Riots and Laughter | 254. New Heaven & New Earth |
| 237. 1st Letter to Thessalonians | 255. New Jerusalem |
Copyright 2011 by John Walsh, BibleTelling