Book 1: Beginnings (Stories 1-52)
View the stories by clicking the PDF link to the right: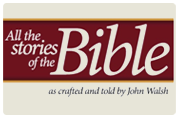 These stories go from Creation to the Death of Moses. After the events of the ancient world, the main emphasis is on Abraham and Moses. Abraham and his family form the beginning of God's new nation. Moses develops this nation and gives it an official start.
List of stories

| | |
| --- | --- |
| 1. Creation | 27. Sold into Slavery |
| 2. Adam and Eve | 28. Judah |
| 3. Fall | 29. Joseph's Rise to Power |
| 4. Cain and Abel | 30. Joseph's Family Reunion |
| 5. The Flood | 31. The Birth of Moses |
| 6. World after the Flood | 32. Finding a Wife |
| 7. Call of Abraham | 33. Call of Moses |
| 8. Melchizedek | 34. Zipporah |
| 9. The God Who Sees Me | 35. Straw for Bricks |
| 10. Promise of Isaac | 36. Pharaoh's Plagues |
| 11. Bargaining with God | 37. The Passover |
| 12. Sodom and Gomorrah | 38. Crossing the Red Sea |
| 13. She's My Sister | 39. What Is It? |
| 14. God Hears | 40. The Lord My Banner |
| 15. Trial of Abraham | 41. The Law |
| 16. Beer-Sheba | 42. The Golden Calf |
| 17. Rebekah | 43. The Tabernacle |
| 18. Selling the Birthright | 44. Unholy Fire |
| 19. She's My Sister II | 45. Graves of the Craving |
| 20. Well Digger | 46. Spitting in Her Face |
| 21. Stolen Blessing | 47. Twelve Spies |
| 22. Jacob's Two Wives | 48. Korah's Rebellion |
| 23. Speckled Spotted & Streaked | 49. Speak to the Rock |
| 24. Leaving Laban | 50. Balaam's Donkey |
| 25. Two Camps | 51. Balaam's Prophecy |
| 26. Dinah | 52. The Death of Moses |
Copyright 2011 by John Walsh, BibleTelling