Installing net in sword for Windows

Open your sword Bible reader (Such as Bible Desktop), and click 'tools>'books'. click on the tab that says Bible.org and find the NET Bible.

If you are using another Sword program that has Tools>Install Manager, then you will first need to configure InstallManager. Go to that menu (Tools>Install Manager) and chose options->manage remote sources/OK (in install manager). Then enter site machine name as ftp.bible.org and repository directory as /sword/ The site name can be anything you like, it's only there for your reference.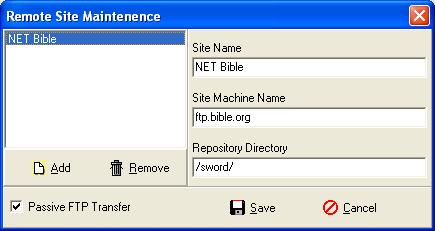 Now click save. You should now see an extra tab in install manager with the net site name you've given. Open this tab and click 'refresh from remote source'. You will see only the free editions if you have the latest install manager. Click on 'view', and 'locked modules', and you'll see all five of the modules listed. Our recommendation is that you download and install netfree and netnotesfree at this time. netfree has the bible text with embedded footnotes. When you hover the mouse cursor over the footnote marker, the notes appear in a popup.

The footnotes need to be turned on in your sword application before you can see them. Do options->footnotes->on.

Currently, there are two shortcomings in the Windows application: the maximum size of the popup is limited, and some of the longer notes become truncated. Also, the popups do not currently have the facility to display Hebrew. If you have Version 1.5.9 or later, you can right click on a note and select Popout Note on the menu that appears. This will give a new window containing the note with scroll bars and correctly displayed Hebrew. For earlier versions of sword, netnotesfree and netnotes have the notes only, in the form of a commentary module that can be used alongside netfree. netfree and netnotesfree are free of charge, but contain only the first three notes in each chapter for evaluation purposes. You may also want to install nettext for evaluation. This contains the text only, with the footnotes displayed only as numbers. This module needs to be used alongside the notes in commentary form. Later, when you have decided which combination of modules is best suited to your method of study, you may wish to upgrade to the 'for-pay' versions, which contain all the notes. These are net and netnotes. To display the Greek and Hebrew correctly, you will need to make use of a good Unicode font. Some of the Windows fonts are unicode, but may not disply one or the other character set really well. We recommend that you obtain freefont. You can download this from

http://www.bible.org/download/netbible/swordproject/freefont-20060126.zip

Once you have the sans or serif font installed, you can go to the sword menu at options->preferences->select font (individual modules). This will allow you to browse to the net module for which you wish to use the newly installed font, and select it.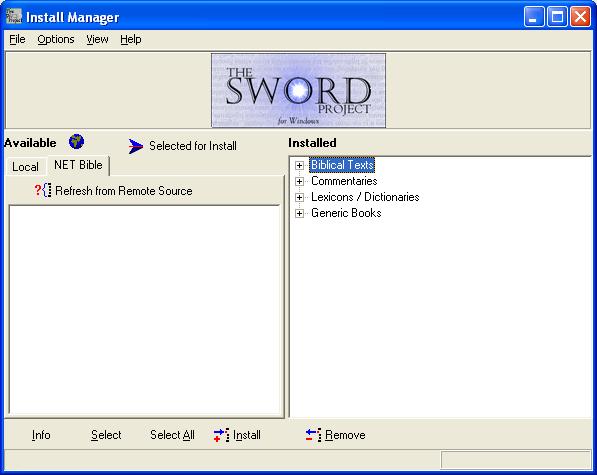 Before installing either or both the 'for-pay' versions, you will need to visit our online shop, and purchase the unlock key, as you will be asked for the key during installation. The same key unlocks both netnotes and net.

If you are an advanced user and prefer to use the raw zipfiles, then download and open the zip file from one of the links below. Make sure that the box is checked to allow unzipping into the correct folders as these folders do not yet exist in your installation. Make sure too that the button is checked to extract all files. Windows users should use Winzip, and use the 'extract' button to access the options for extracting. You can then browse to the sword directory (some users understand 'folder' better than 'directory').

netfree is downloaded from http://www.bible.org/download/netbible/swordproject/netfree.zip
netnotesfree is downloaded from http://www.bible.org/download/netbible/swordproject/netnotesfree.zip
and nettext is downloaded from

http://www.bible.org/download/netbible/swordproject/nettext.zip.

The for-pay netnotes module is at http://www.bible.org/download/netbible/swordproject/netnotes.zip.
and the for-pay net module is at http://www.bible.org/download/netbible/swordproject/net.zip

After you have carried out a manual install of 'for-pay' modules, you will need to insert the unlock key manually into net.conf or netnotes.conf. This must be done using a programmer's editor as Windows Notepad inserts unwanted characters into the file and the key will not work. The key needs to be inserted with no spaces on the line that says 'CipherKey='. Do not attempt manual installation unless you are sure of what you are doing as we cannot give support to problems encountered when using this method.